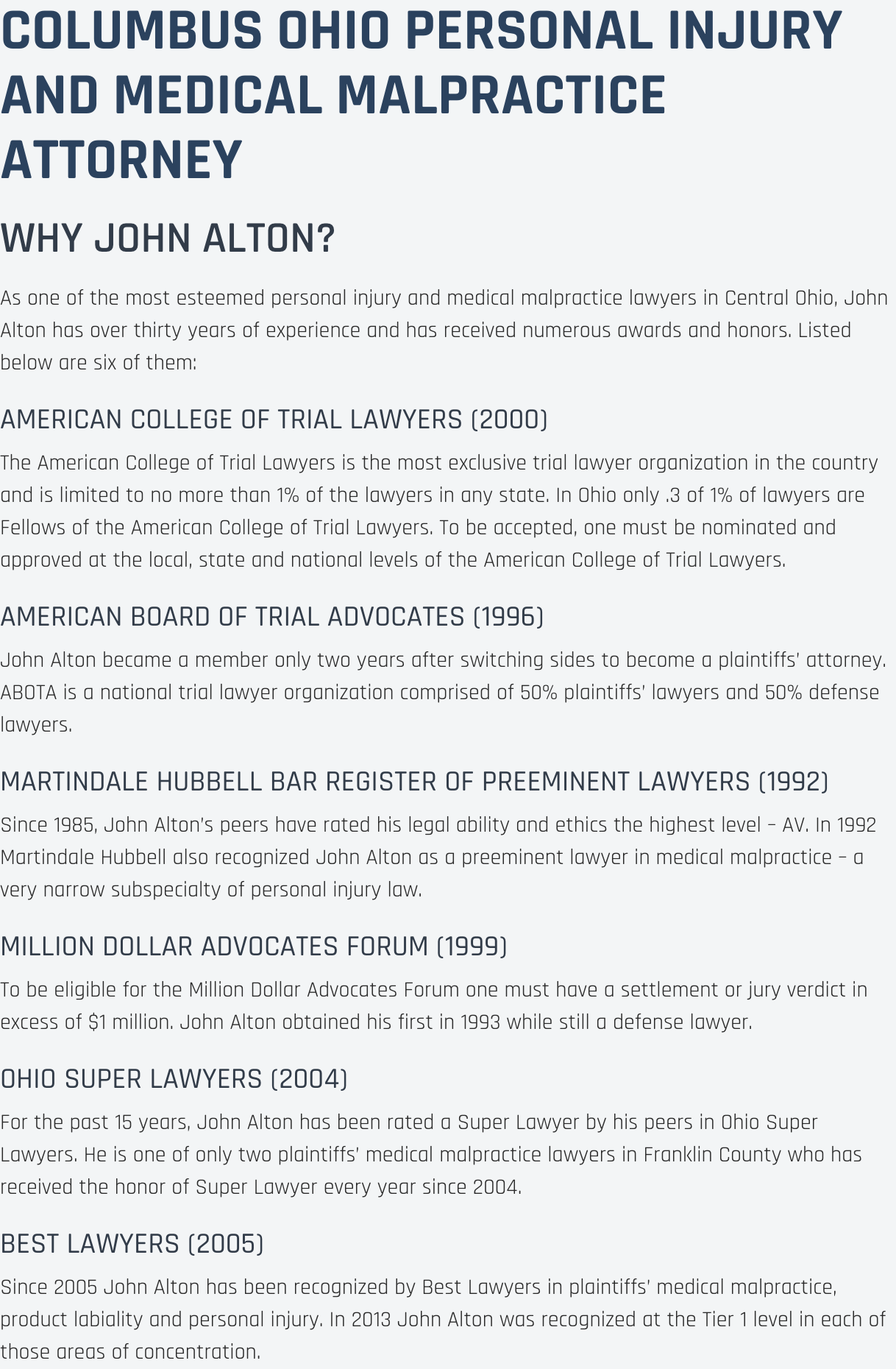 Personal Injury Lawyer Circleville OH
The Law Offices of John M Alton Co, LPA knows that your personal injury matter needs to be addressed as quickly as possible. You may have mounting medical bills from the past and present, and this may be a major interruption of your work life and daily activities. You deserve just compensation for the pain and suffering you are being put through. In certain cases, we may pursue punitive damages as well. Allow my services at The Law Offices of John M Alton Co, LPA the opportunity to serve your interests and help your personal injury matter get resolved with results.
Dealing with a personal injury matter and need professional legal counsel? I can help you in Circleville. My experience with personal injury cases has been to be as precise, detailed and accurate as possible to best help you. I know how to deal with your case. I walk my clients through the process and have a record of successfully recovering the maximum just compensation capable for my clients. Allow me the opportunity to assist your personal injury matter with the legal guidance that will show results.
If you need legal help to get the financial aid you're missing due to your personal injury accident, The Law Offices of John M Alton Co, LPA is here to assist you now. I will fight to get you just compensation and protect your rights. Your financial priorities and proper medical treatment is important to me. Your pain and suffering is important to me. Attaining for you just compensation is important to me. Reach out to me at The Law Offices of John M Alton Co, LPA, serving the Circleville area, to see how my services can benefit your personal injury matter now.
Work with our team!
We are ready in Circleville to help you through your personal injury case. Give us the chance to build a defense that will get you the results you want in the Circleville area. Give us a call today at (614) 221-6751 to learn more about what we can do.
The Law Offices of John M Alton Co, LPA
1071 S. High Street
Columbus, OH 43206
(614) 221-6751
Related Articles:
Accident Attorney Columbus
,
Car Accident Attorney Columbus
,
Accident Lawyer Upper Arlington OH
,
Caesarean Section Errors In Columbus OH
,
Loss Of Limb In Chillicothe OH
,
Maternal Injuries During Birth In Columbus OH
,
Wrongful Death From Birth Injury In Findlay OH
,
Quadriplegia Lawyer Bellefontaine OH
,
Quadriplegia Lawyer Marietta OH
,
Wrongful Death Attorney Wapakoneta OH
,