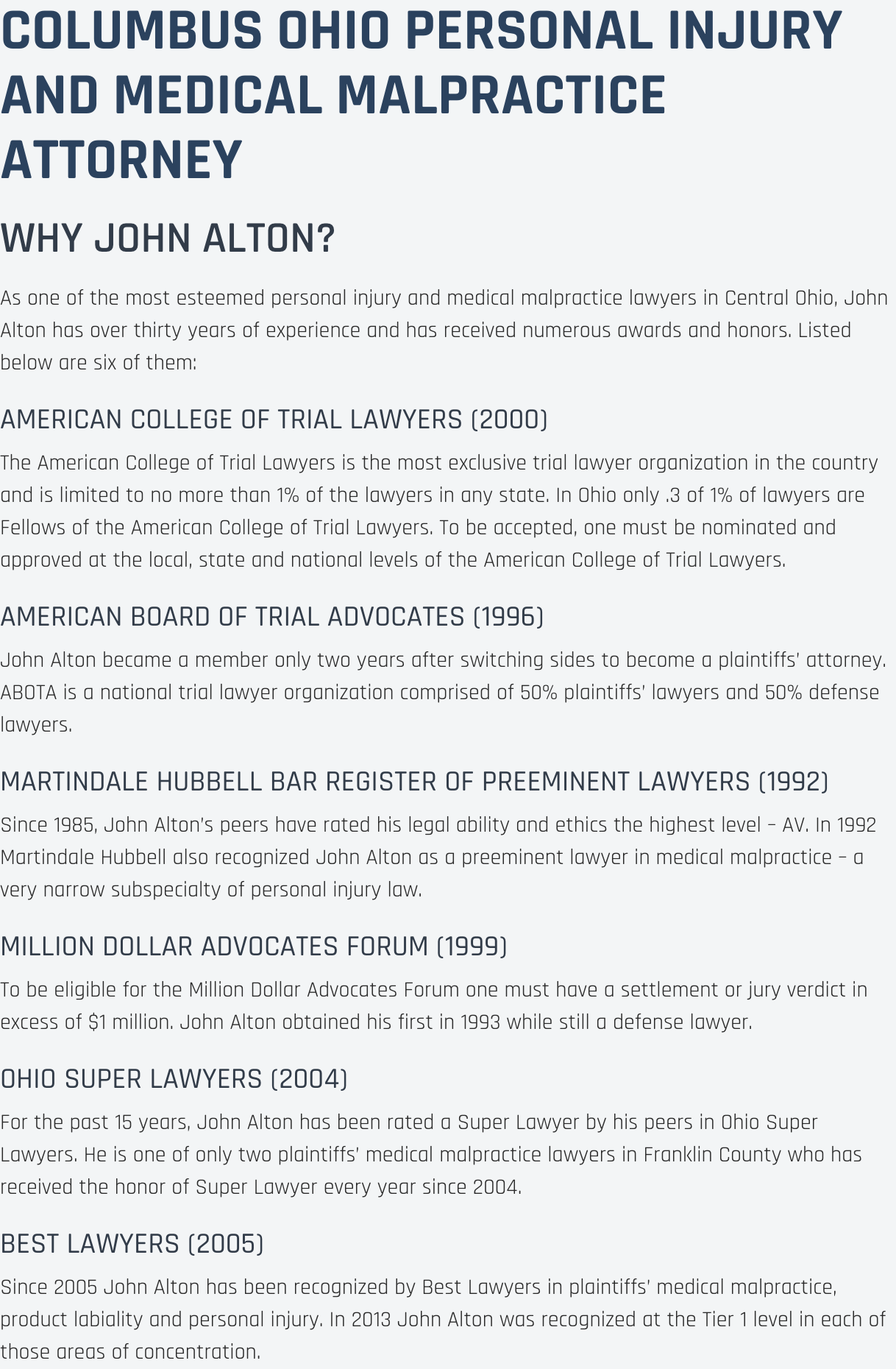 Personal Injury Lawyer Circleville OH
A personal injury matter needs to be dealt with and my intention is to help compensate you for your losses due to your personal injury issue. If you feel that your personal injury matter has not been dealt with appropriately, allow The Law Offices of John M Alton Co, LPA the opportunity to serve your interests. I will help get you financial compensation for your personal injury matter and protect and defend your rights.
Becoming a client at The Law Offices of John M Alton Co, LPA will be most beneficial to your personal injury matter. I have 25 years of experience working on all types of Personal Injury cases. I will treat your situation with the utmost respect and confidentiality. I will explain the law and how it impacts your case, how to move your personal injury matter forward through the legal system, and hopefully to see great results. My goal is to bring you a successful outcome to your personal injury matter.
The Law Offices of John M Alton Co, LPA has nearly 25 years of legal experience helping people. I will bring that experience to bear on your personal injury case. My knowledge and expertise makes me qualified to advocate for you. I am an aggressive and effective attorney who will protect your rights. If you have had any serious issues in Circleville, or the surrounding areas due to a personal injury accident and need representation by a diligent lawyer, The Law Offices of John M Alton Co, LPA. is here to help you. I will not stop fighting for your rights.
Work with our team!
We are ready in Circleville to help you through your personal injury case. Give us the chance to build a defense that will get you the results you want in the Circleville area. Give us a call today at (614) 221-6751 to learn more about what we can do.
The Law Offices of John M Alton Co, LPA
1071 S. High Street
Columbus, OH 43206
(614) 221-6751
Related Articles:
Loss Of Limb In Cambridge OH
,
Mediation Lawyer Sandusky OH
,
Medical Malpractice Lawyer Springfield OH
,
Quadriplegia Lawyer Waverly OH
,
Cerebral Palsy Attorney London OH
,
Maternal Birth Injury Attorney Delaware OH
,
Maternal Birth Injury Attorney Upper Sandusky OH
,
Maternal Birth Injury Attorney Urbana OH
,
Medical Malpractice Attorney Chillicothe OH
,
Medical Malpractice Attorney London OH
,