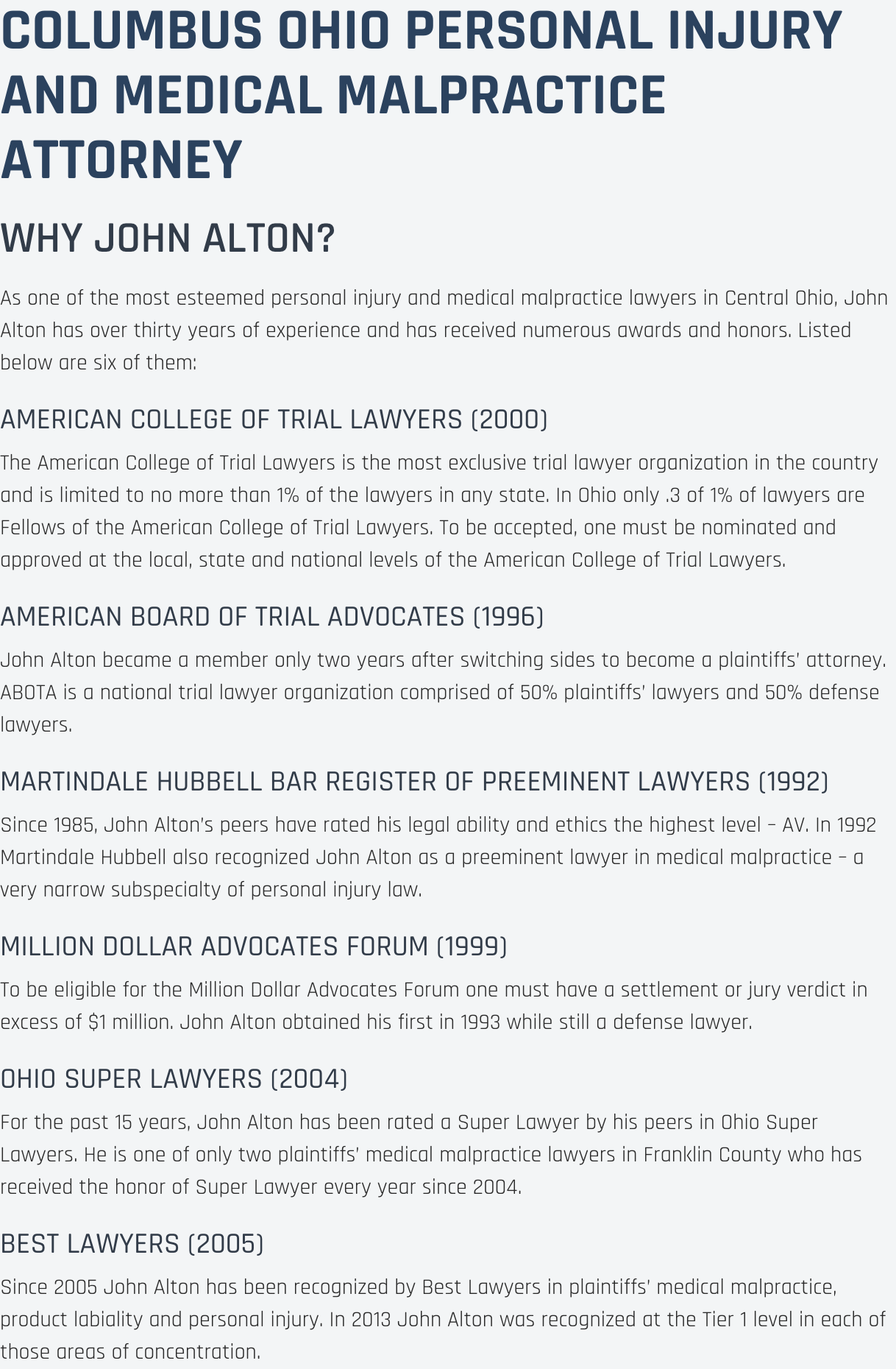 Personal Injury Lawyer Coshocton OH
At The Law Offices of John M Alton Co, LPA, I have background experience with those types of large law firms notorious for their grit in the courtroom. My know how experience, commitment and personal individual attention about your personal injury matter is crucial when it comes to upholding justice for victims like you. If you are in the Coshocton area and are looking to attain the most beneficial legal counsel to deal with your personal injury matter now. I am here to assist you.
The Law Offices of John M Alton Co, LPA has nearly 25 years of legal experience helping people. I will bring that experience to bear on your personal injury case. My knowledge and expertise makes me qualified to advocate for you. I am an aggressive and effective attorney who will protect your rights. If you have had any serious issues in Coshocton, or the surrounding areas due to a personal injury accident and need representation by a diligent lawyer, The Law Offices of John M Alton Co, LPA. is here to help you. I will not stop fighting for your rights.
When you have lost a loved one or have been hurt due to a serious personal injury, you will need help dealing with your personal injury matter in an efficient and effective manner. Having to deal with a personal injury matter or other tragedy can be daunting. Choosing my help at The Law Offices of John M Alton Co, LPA can provide you with the legal solution you've been looking for. If you want the right lawyer to get the job done of securing you just compensation, look no further than my services for help in Coshocton now.
You face many expenses after the incident that led to your personal injury matter from medical bills to lost wages and other opportunities missed. At The Law Offices of John M Alton Co, LPA, our job is to find compensation for these losses. Although compensation will never remove the trauma of the experience, we have found after 25 years practicing the law people feel empowerment through the legal system. The Law Offices of John M Alton Co, LPA council will put your interests first within your personal injury case. To schedule a free consultation, use the information below and call us today:

The Law Offices of John M Alton Co, LPA
1071 S. High Street
Columbus, OH 43206
(614) 221-6751