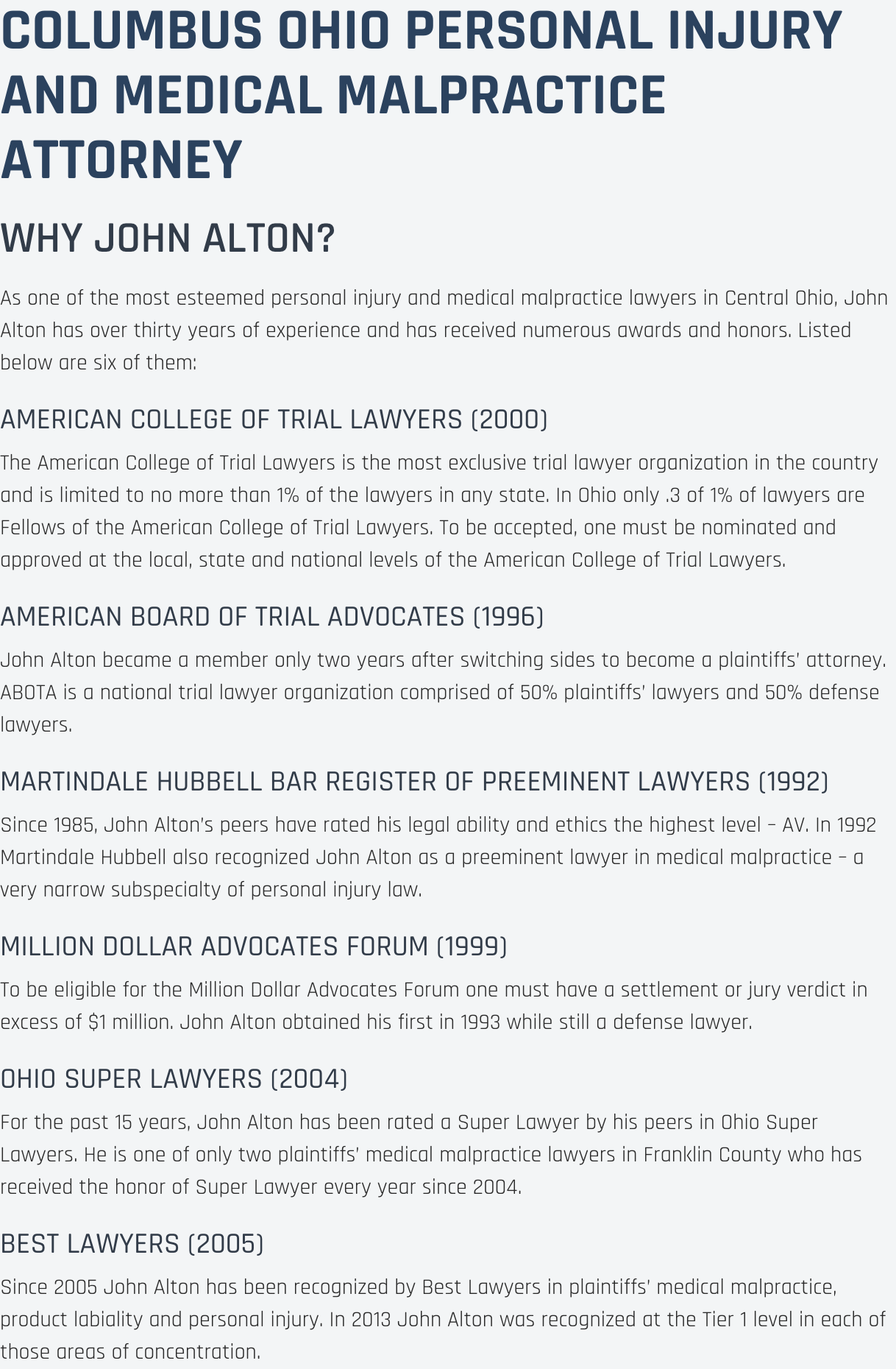 Personal Injury Lawyer Delaware OH
The Law Offices of John M Alton Co, LPA understands how difficult it can be to deal with any personal injury matter. I want to help you with your personal injury matter today and help ease your pain and suffering. There are two injuries that could have happened to you; either on the job or in other circumstances. Either your employer is liable, or another involved party besides your employer is liable. The first is resolving your personal injury matter and getting you just compensation. I may have to go through an appeals process if you file a claim and it is possibly challenged or denied. The second kind of issue can involve a third-party claim.
There are insurance policies that can help you during the course of your personal injury matter. Unfortunately, depending on the severity of your personal injury matter, sometimes the insurance companies can be difficult to deal with. At The Law Offices of John M Alton Co, LPA, my priority is to see that your emotional and financial difficulties improve. I will help you attain the financial assistance you really need. I want your personal injury matter to progress with success. I want to achieve the outcome right outcome for your personal injury case you truly deserve.
If you have had a personal injury matter happen in your life and need help, The Law Offices of John M Alton Co, LPA is here for you. I can assure you that we will always act with the utmost respect for your feelings and with the highest ethical standards. I will work hard to find a fair solution that works for you to make your personal injury a thing of the past emotionally and financially, and win your battle. We are very thorough with all personal injury matters, and will treat your situation with the highest priority and concern.
The Law Offices of John M Alton Co, LPA will work hard to prove the other party was at fault in the events leading to your personal injury case. Fundamentally this is important because of the way the law works within the Delaware area and the state. Personal injury lawsuits are messy, but they also are an opportunity to restore justice to your life. Contact The Law Offices of John M Alton Co, LPAto schedule a consultation today:

The Law Offices of John M Alton Co, LPA
1071 S. High Street
Columbus, OH 43206
(614) 221-6751