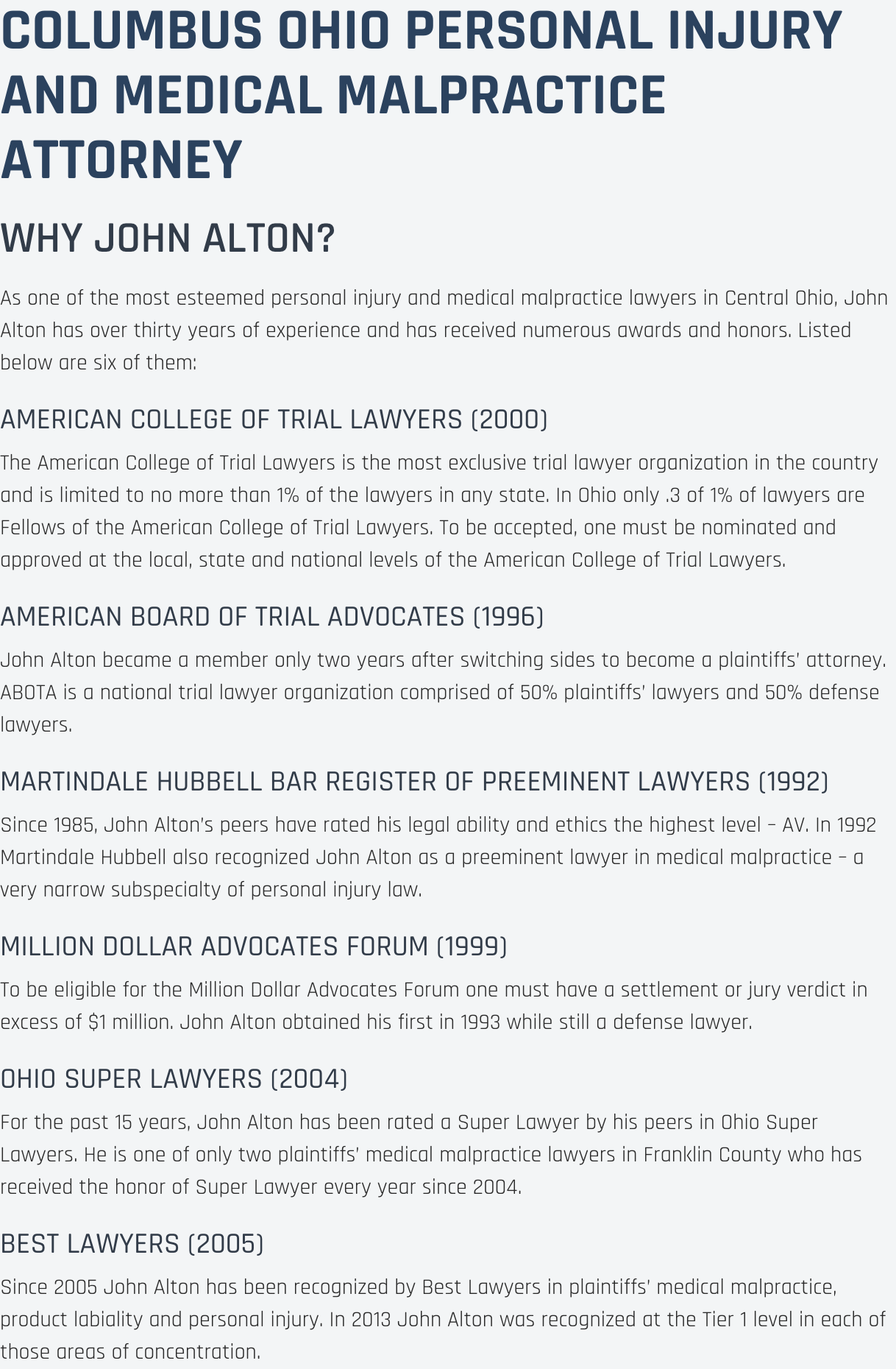 Personal Injury Lawyer Delaware OH
The words Personal Injury is a legal term referring to the physical injuries and economic losses resulting from poor and reckless behavior of another person. In Delaware, a person who suffers a personal injury can recover financial compensation for their short and long-term medical care, lost wages and earning potential loss. I want to help you resolve your personal injury matter now. With my help at The Law Offices of John M Alton Co, LPA; I will help create a realistic plan to help make this happen for your current personal injury situation.
The Law Offices of John M Alton Co, LPA wants to help you get compensation for your suffering. Your personal injury matter should not be ignored. Your pain and suffering should be compensated for having to deal with such a personal injury matter. If you are being affected detrimentally due to your personal injury issue, allow me to represent you now in Delaware and the surrounding area.
The Law Offices of John M Alton Co, LPA is very familiar in dealing with personal injury cases. I understand that your time and money are very important and valuable. I also understand that, in order to achieve the just financial compensation that you deserve for your pain and suffering, you need the right type of legal advice. The Law Offices of John M Alton Co, LPA is here to help make that happen for you. My intention is to work for you, take on your personal injury case with an aggressive stance and prevail with results. If you live in the Delaware area, I am ready to assist your personal injury matter now.
The Law Offices of John M Alton Co, LPA will work hard to prove the other party was at fault in the events leading to your personal injury case. Fundamentally this is important because of the way the law works within the Delaware area and the state. Personal injury lawsuits are messy, but they also are an opportunity to restore justice to your life. Contact The Law Offices of John M Alton Co, LPAto schedule a consultation today:

The Law Offices of John M Alton Co, LPA
1071 S. High Street
Columbus, OH 43206
(614) 221-6751