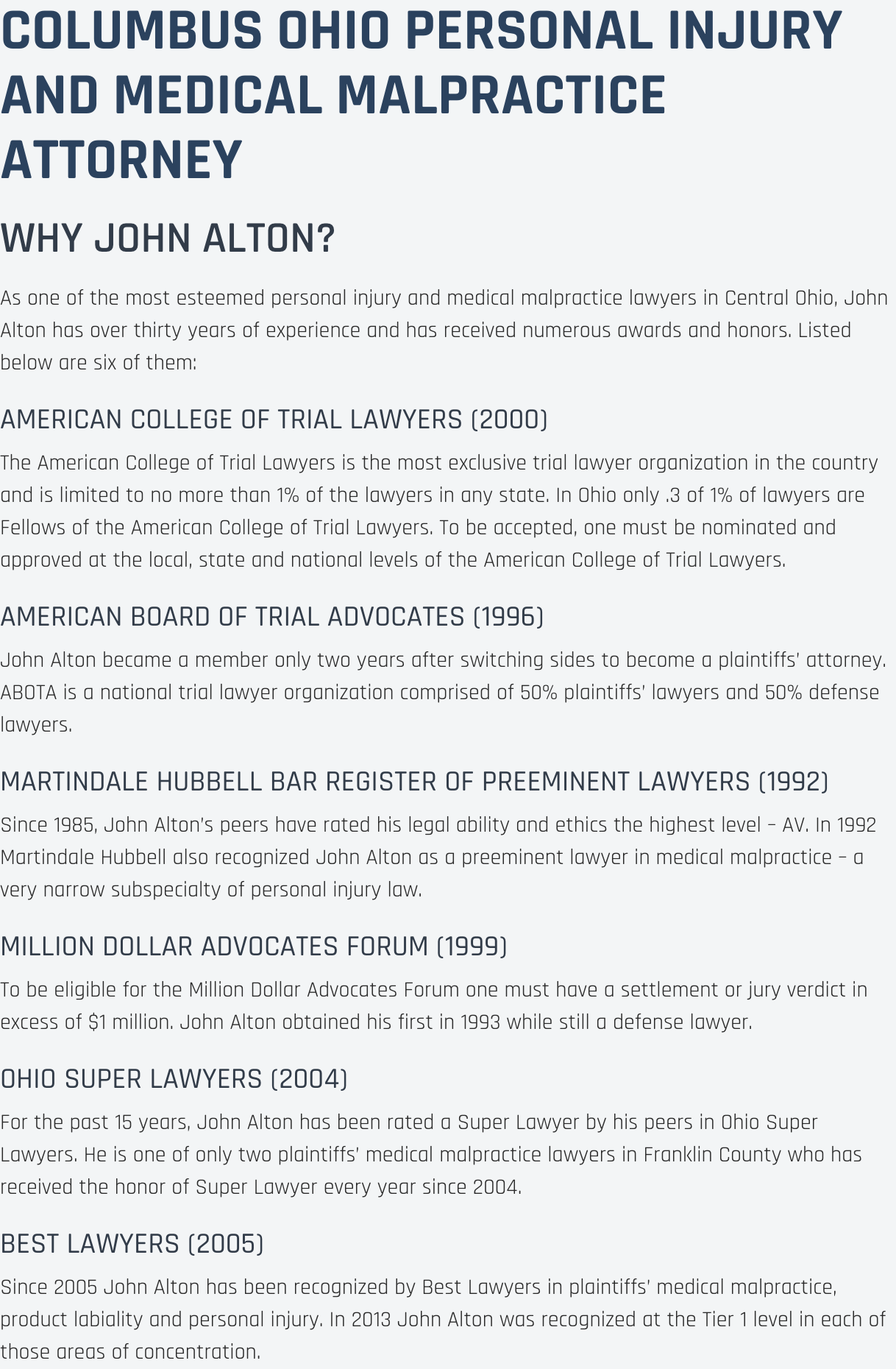 Personal Injury Lawyer Gahanna OH
The Law Offices of John M Alton Co, LPA is very familiar in dealing with personal injury cases. I understand that your time and money are very important and valuable. I also understand that, in order to achieve the just financial compensation that you deserve for your pain and suffering, you need the right type of legal advice. The Law Offices of John M Alton Co, LPA is here to help make that happen for you. My intention is to work for you, take on your personal injury case with an aggressive stance and prevail with results. If you live in the Gahanna area, I am ready to assist your personal injury matter now.
If you have suffered a personal injury in any kind of accident and someone else is to blame, you should speak with an attorney at The Law Offices of John M Alton Co, LPA. Waiting too long to meet with a personal injury lawyer could leave you permanently injured without any just compensation. I have nearly 25 years of experience of legal expertise. I understand what it takes and will try hard to achieve the results that you want.
Here at The Law Offices of John M Alton Co, LPA, I am devoted to being on your side. For personal injury cases that can get highly complicated in a short matter of time, allow me to craft an effective strategy in dealing with your case. My clients have seen substantial compensation from their personal injury cases. For my Gahanna area clients, I work hard to get them the results that they want. If you or a loved one has had to endure a personal injury accident, allow me to assist your personal injury case to see what I can do.
Call our offices today!
The system does not have anyone to look out for regular people, but by hiring The Law Offices of John M Alton Co, LPA as your legal representation, you can begin to fight back against people who do not care about your life. A large part of our representation, in your personal injury case, will be geared towards communicating the status of your case. We have found after 25 years the best outcomes happen when the client is kept informed of their interests. Call our office using the information below to speak with a Gahanna area representative:

The Law Offices of John M Alton Co, LPA
1071 S. High Street
Columbus, OH 43206
(614) 221-6751
Related Articles:
Misdiagnosis Attorney Ohio
,
Maternal Injuries During Birth In Marysville OH
,
Mediation Lawyer Delaware OH
,
Brain Damaged Baby Lawyer Wilmington OH
,
Personal Injury Lawyer Athens OH
,
Spinal Cord Injury Lawyer Delaware OH
,
Spinal Cord Injury Lawyer Zanesville OH
,
Wrongful Death from Birth Injury Lawyer Coshocton OH
,
Wrongful Death Attorney Mansfield OH
,
Wrongful Death Attorney Xenia OH
,