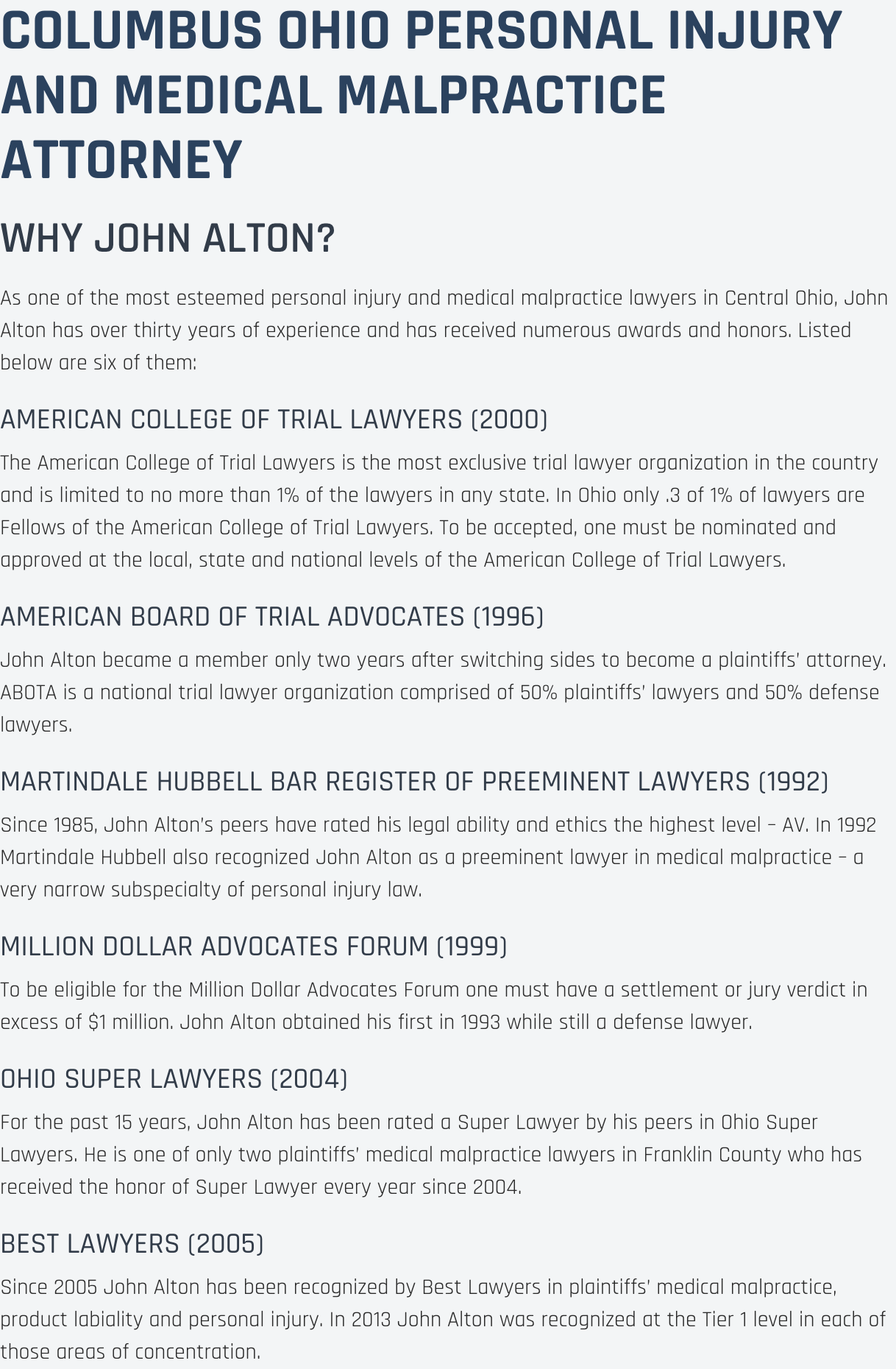 Personal Injury Lawyer Hillsboro OH
The Law Offices of John M Alton Co, LPA knows that when someone suffers a personal injury in Hillsboro, there are always many questions to ask. Who was at fault? Will I ever recover? Should I speak with a lawyer? The answer to these questions is yes. Sometimes, people who are hurt in an accident feel that they cannot do anything about it. Speaking with an experienced attorney, like me at The Law Offices of John M Alton Co, LPA, is the most appropriate step a person can take to start resolving their current personal injury issues.
Personal injury matters and your injuries can be the result of a personal injury by someone: at work or other property, defective products, medical malpractice, unsafe workplaces, auto accident and many other factors. They all come with a cost far greater than basic medical expenses. The Law Offices of John M Alton Co, LPA can help get you fair compensation and make sure those at fault are held responsible for their actions, or lack of. You and your family have a long journey ahead. Allow me in Hillsboro to worry about your personal injury matter so you can concentrate on your recovery.
A serious personal injury case can have catastrophic consequences for you and your family. Besides physical pain and suffering, emotional pain can also be an issue. Economics plays a serious role too. You may not be able to work and may have mounting medical bills or other income issues. At The Law Offices of John M Alton Co, LPA, I will fight for your rights to get you the financial compensation you deserve for your pain and suffering. If you are in Hillsboro or the surrounding area; schedule an appointment to meet with me to discuss your personal injury case.
Call our offices today!
From high powered big law firms to deep bank accounts, your adversary in your personal injury case will have lots of resources to spend on their defense. The Law Offices of John M Alton Co, LPA levels the playing field by bringing solid representation to your side. Throughout our 25 years of history, we prided ourselves on holding people within the Hillsboro area responsible for their negligence. This sense of justice has guided our practice and handling of personal injury matters. Contact The Law Offices of John M Alton Co, LPA using the information below to review your case:

The Law Offices of John M Alton Co, LPA
1071 S. High Street
Columbus, OH 43206
(614) 221-6751

Related Articles:
Nursing Home Abuse Lawyer Westerville OH
,
Personal Injury Lawyer Gahanna OH
,
Amputation In Columbus OH
,
Cerebral Palsy In Sandusky OH
,
Neonatal Intensive Care Errors In Cambridge OH
,
Birth Injury Lawyer Mansfield OH
,
Medical Malpractice Lawyer London OH
,
Personal Injury Lawyer Pomeroy OH
,
Spinal Cord Injury Lawyer Wooster OH
,
Medical Malpractice Attorney Ironton OH
,