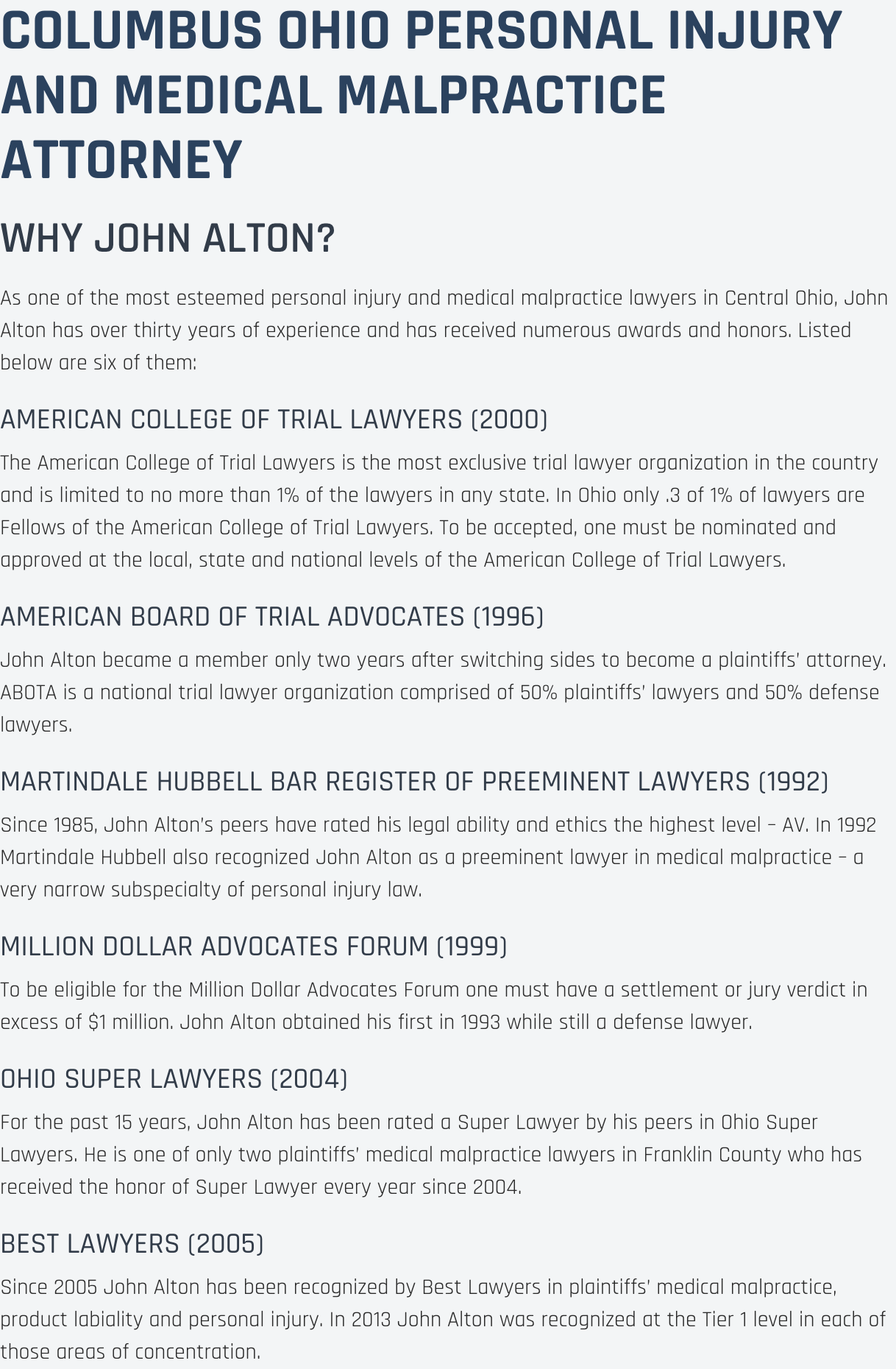 Personal Injury Lawyer Hillsboro OH
The Law Offices of John M Alton Co, LPA understands that you may be suffering and in pain and dealing with economic loss or emotional distress due to your personal injury matter. I am here to help improve your quality of life. With my legal guidance, I can help your personal injury case move forward without all the daily stress. With my nearly 25 years of legal experience, I know how to get the ball rolling on dealing with personal injury matters. Allow me the opportunity to explain to you what my services can offer your personal injury case today.
The law allows Hillsboro injured victims to file lawsuits against individuals, companies or government entities whose acts or omissions cause harm. Matters of a personal injury case can be resolved in court or through a settlement negotiation. The reality is that you should have an aggressive legal advocate representing your interests. The Law Offices of John M Alton Co, LPA is here to help you now. I will offer my knowledge and experience to help move your case personal injury case forward. I am here to fight for you.
Your type of injury depends on the circumstances of your personal injury accident. Attaining compensation depends on proving to the court the amount of losses you have incurred. The Law Offices of John M Alton Co, LPA will fight to prove that your losses are of great value. I will fight for your right to obtain just financial compensation for your pain and suffering. At The Law Offices of John M Alton Co, LPA, I will make sure that every effort is made to push your personal injury case forward aggressively. Your personal injury case will be given top priority.
Call our offices today!
From high powered big law firms to deep bank accounts, your adversary in your personal injury case will have lots of resources to spend on their defense. The Law Offices of John M Alton Co, LPA levels the playing field by bringing solid representation to your side. Throughout our 25 years of history, we prided ourselves on holding people within the Hillsboro area responsible for their negligence. This sense of justice has guided our practice and handling of personal injury matters. Contact The Law Offices of John M Alton Co, LPA using the information below to review your case:

The Law Offices of John M Alton Co, LPA
1071 S. High Street
Columbus, OH 43206
(614) 221-6751