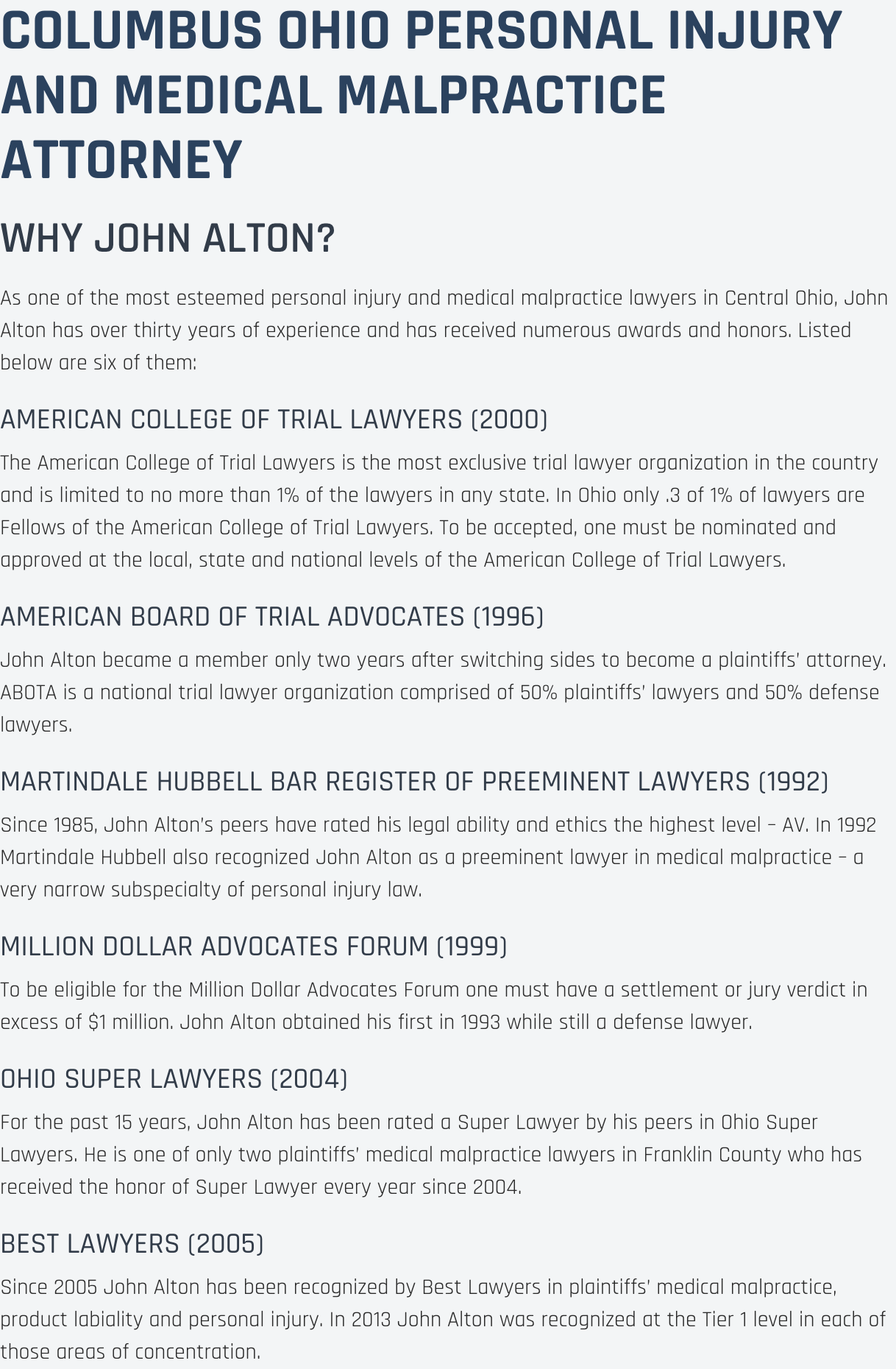 Personal Injury Lawyer McArthur OH
The Law Offices of John M Alton Co, LPA knows that your personal injury matter needs to be addressed as quickly as possible. You may have mounting medical bills from the past and present, and this may be a major interruption of your work life and daily activities. You deserve just compensation for the pain and suffering you are being put through. In certain cases, we may pursue punitive damages as well. Allow my services at The Law Offices of John M Alton Co, LPA the opportunity to serve your interests and help your personal injury matter get resolved with results.
If someone close to you has suffered in a personal injury matter due to the negligent, reckless, or intentional behavior of another party, it is crucial that you contact a skilled and compassionate personal injury attorney as soon as possible to discuss the option of filing a wrongful death claim. I am here to help you with your personal injury matter now. I will put my best foot forward to help you resolve your personal injury matter and find you a just resolution that fits your wants and needs.
Your type of injury depends on the circumstances of your personal injury accident. Attaining compensation depends on proving to the court the amount of losses you have incurred. The Law Offices of John M Alton Co, LPA will fight to prove that your losses are of great value. I will fight for your right to obtain just financial compensation for your pain and suffering. At The Law Offices of John M Alton Co, LPA, I will make sure that every effort is made to push your personal injury case forward aggressively. Your personal injury case will be given top priority.
As soon as you call The Law Offices of John M Alton Co, LPA we take the time to educate you about your personal injury rights. After 25 years of practice, we know it is a good idea to have legal representation in these cases. If you are looking for a way to judge personal injury attorneys, look to what their opposing counsel says about them. McArthur area defense attorneys respect The Law Offices of John M Alton Co, LPA and know they will face a potent and well crafted personal injury litigation. Call The Law Offices of John M Alton Co, LPA today using the information below to schedule a consultation:

The Law Offices of John M Alton Co, LPA
1071 S. High Street
Columbus, OH 43206
(614) 221-6751