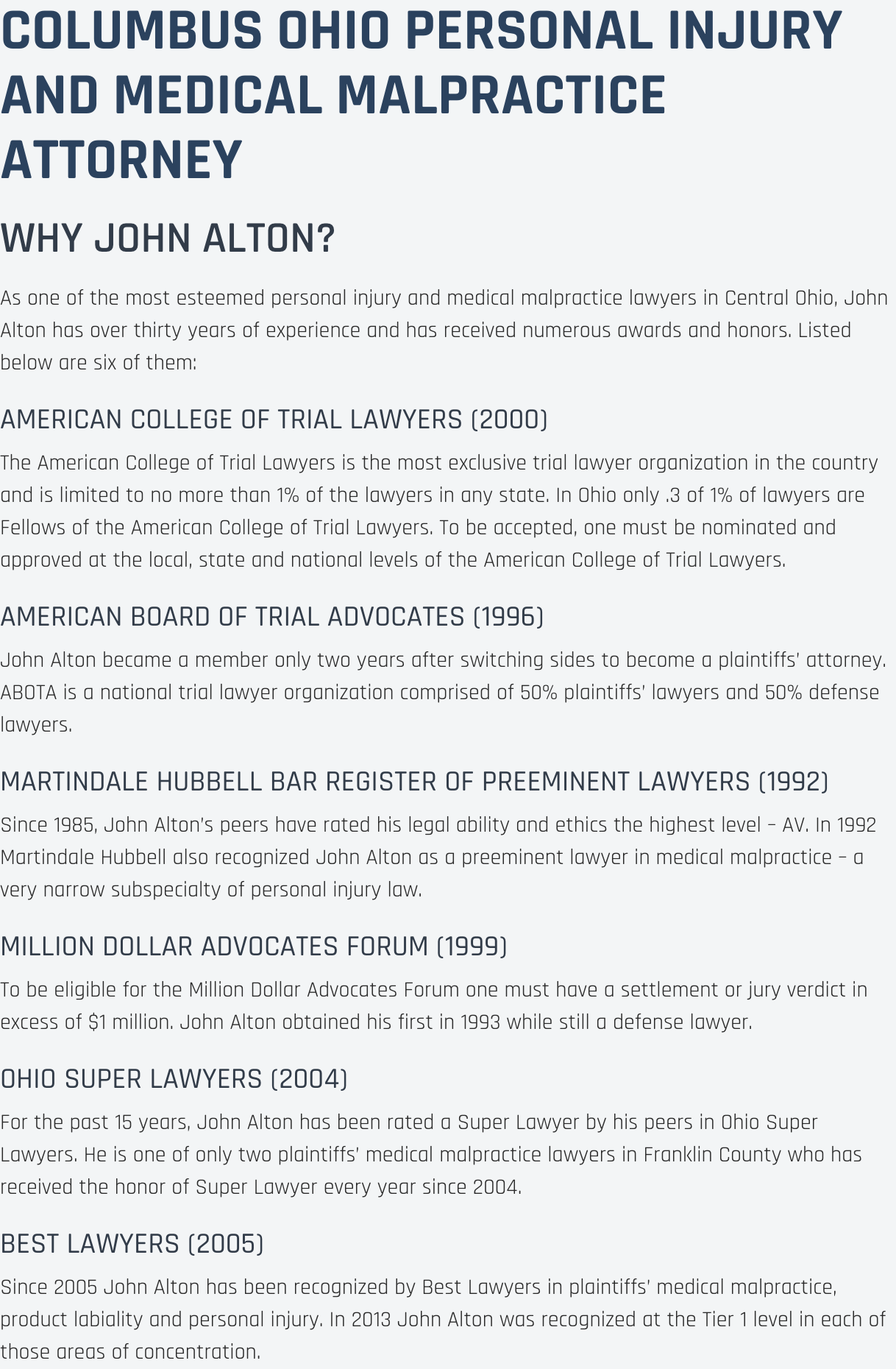 Personal Injury Lawyer Millersburg OH
You may have suffered a personal injury and now must deal with it every day. The Law Offices of John M Alton Co, LPA wants to help relieve that stress from your daily life. You should not have to suffer financial or emotional distress due to the negligence of someone else. At The Law Offices of John M Alton Co, LPA, I know how to best address your current legal situation. I know how to attain the results you want. If you are in the Millersburg area, I can help you.
With my nearly 25 years of legal experience working in the Millersburg area, I know how to make successful arguments to give you a better chance to get the compensation that you deserve. I know the stall tactics and tricks that insurance companies in the Millersburg area may use. I will cut through these matters to save time. I want to move your personal injury case's chances forward; with a positive approach and final goal. I aim to achieve successful results.
The Law Offices of John M Alton Co, LPA will find you the appropriate resolution to your pain and suffering in a court of law. You should be compensated financially for any suffering you have endured due to your personal injury issue. If someone has been negligent to you or caused harm or distress; I am here to assist you with all my effort.
Contact Our Millersburg Area Professionals Today
Our Millersburg personal injury attorneys represent clients who do not want to go through these claims alone. The Law Offices of John M Alton Co, LPA is here to help you. Call us at (614) 221-6751, or come to our offices at 1071 S. High Street.
The Law Offices of John M Alton Co, LPA
1071 S. High Street
Columbus, OH 43206
(614) 221-6751
Related Articles:
Diving Accident Lawyer Bexley OH
,
Injury Lawyer Dublin OH
,
Tractor Trailer Accident Lawyer Powell OH
,
Brachial Plexus Injury In Mansfield OH
,
Arbitration Lawyer Zanesville OH
,
Birth Injury Lawyer Wilmington OH
,
Quadriplegia Lawyer Bucyrus OH
,
Quadriplegia Lawyer Marietta OH
,
Medical Malpractice Attorney Bellefontaine OH
,
Wrongful Death Attorney Waverly OH
,