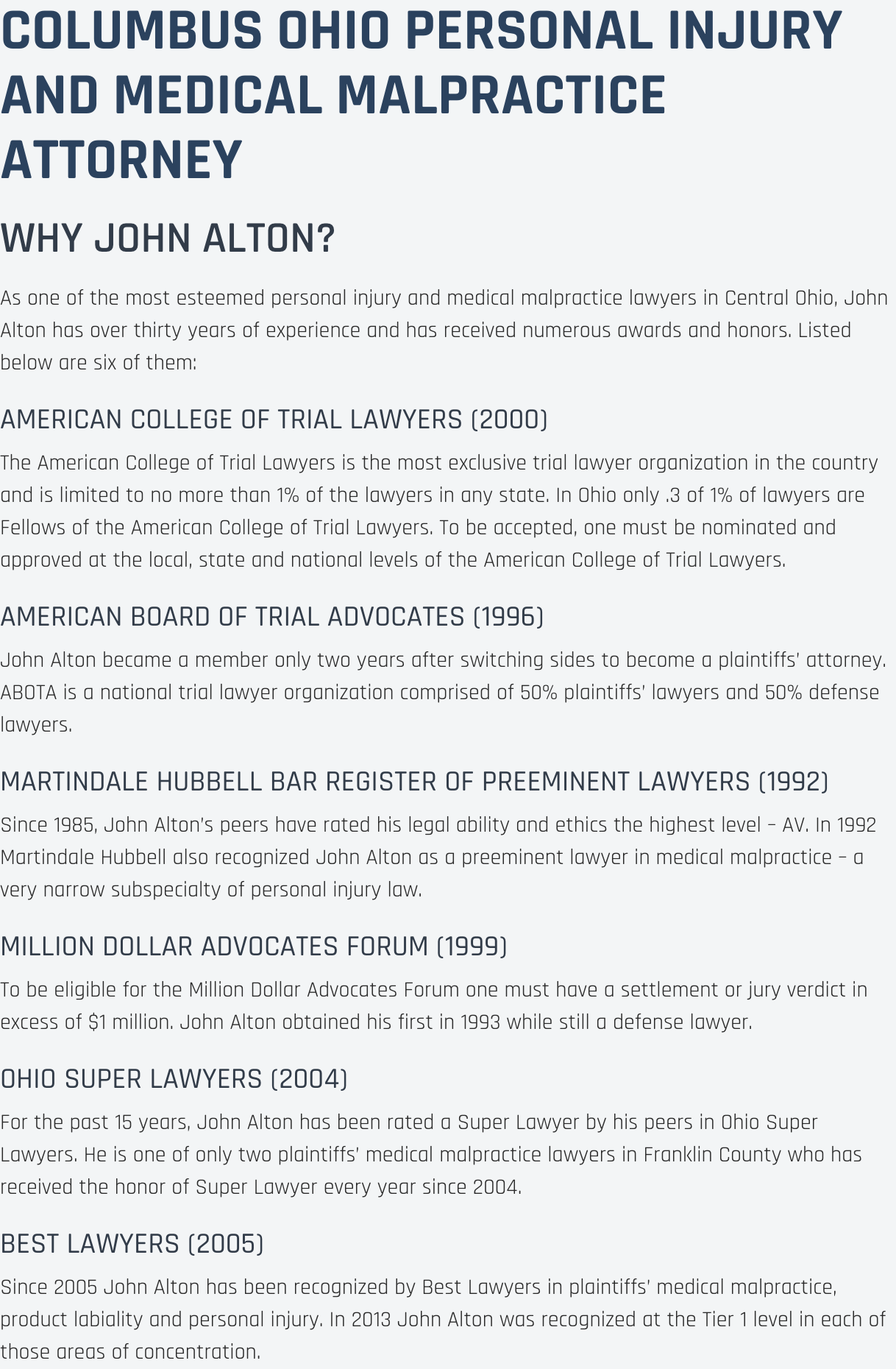 Personal Injury Lawyer Mount Vernon OH
The Law Offices of John M Alton Co, LPA knows that your personal injury matter needs to be addressed as quickly as possible. You may have mounting medical bills from the past and present, and this may be a major interruption of your work life and daily activities. You deserve just compensation for the pain and suffering you are being put through. In certain cases, we may pursue punitive damages as well. Allow my services at The Law Offices of John M Alton Co, LPA the opportunity to serve your interests and help your personal injury matter get resolved with results.
There are insurance policies that can help you during the course of your personal injury matter. Unfortunately, depending on the severity of your personal injury matter, sometimes the insurance companies can be difficult to deal with. At The Law Offices of John M Alton Co, LPA, my priority is to see that your emotional and financial difficulties improve. I will help you attain the financial assistance you really need. I want your personal injury matter to progress with success. I want to achieve the outcome right outcome for your personal injury case you truly deserve.
Personal injury matters and your injuries can be the result of a personal injury by someone: at work or other property, defective products, medical malpractice, unsafe workplaces, auto accident and many other factors. They all come with a cost far greater than basic medical expenses. The Law Offices of John M Alton Co, LPA can help get you fair compensation and make sure those at fault are held responsible for their actions, or lack of. You and your family have a long journey ahead. Allow me in Mount Vernon to worry about your personal injury matter so you can concentrate on your recovery.
Contact Us Today!
Contact The Law Offices of John M Alton Co, LPA for your personal injury needs in the Mount Vernon area. You can reach us at (614) 221-6751 or visit our offices at 1071 S. High Street.
The Law Offices of John M Alton Co, LPA
1071 S. High Street
Columbus, OH 43206
(614) 221-6751
Related Articles:
Motorcycle Accident Lawyer Reynoldsburg OH
,
Arbitrator In Cincinnati OH
,
Neonatal Intensive Care Errors In Delaware OH
,
Brain Damaged Baby Lawyer Mount Gilead OH
,
Personal Injury Lawyer McConnelsville OH
,
Quadriplegia Lawyer Millersburg OH
,
Spinal Cord Injury Lawyer Cambridge OH
,
Cerebral Palsy Attorney Athens OH
,
Maternal Birth Injury Attorney Cambridge OH
,
Medical Malpractice Attorney McArthur OH
,