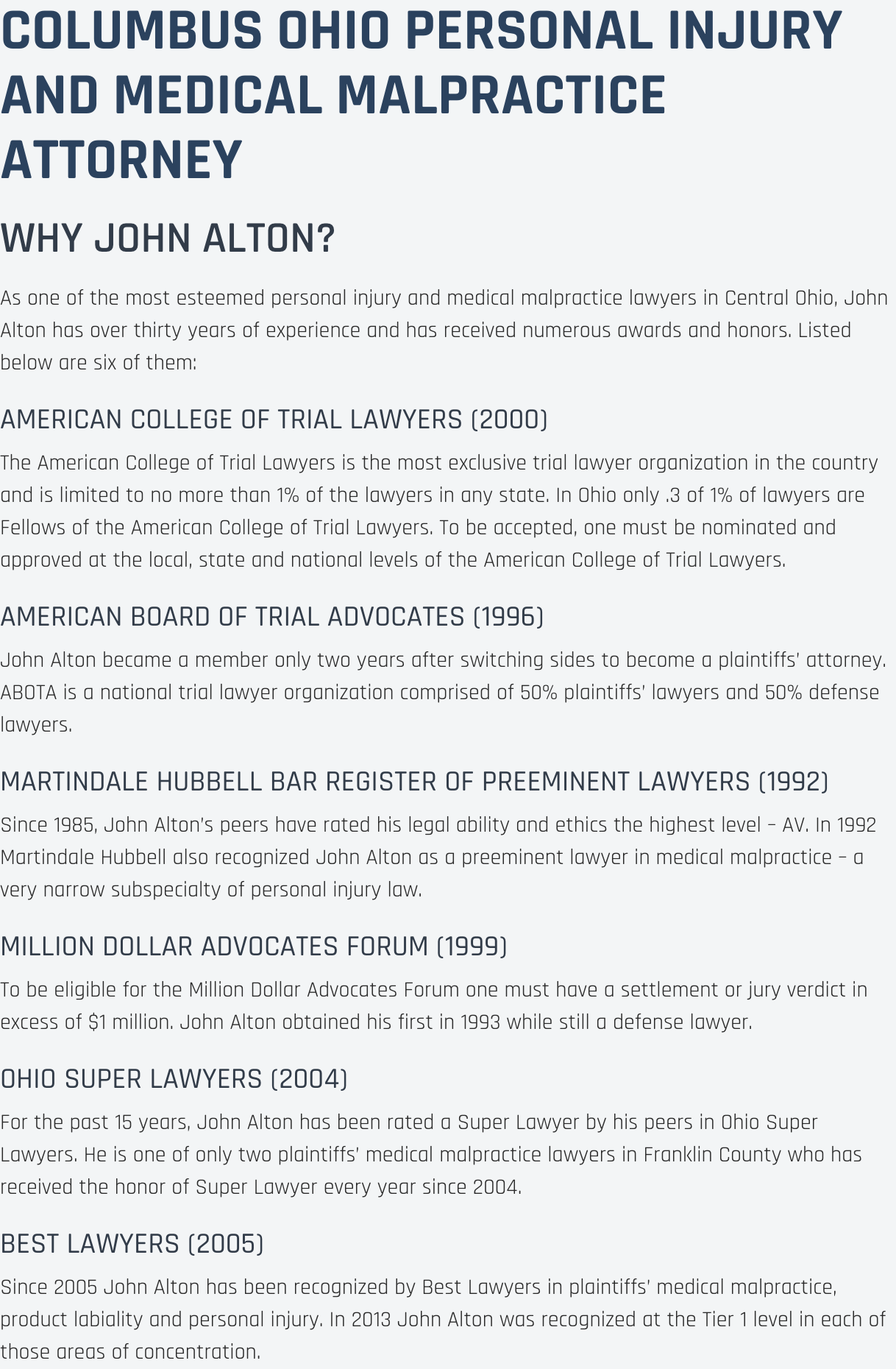 Personal Injury Lawyer Powell OH
The Law Offices of John M Alton Co, LPA understands how difficult it can be to deal with any personal injury matter. I want to help you with your personal injury matter today and help ease your pain and suffering. There are two injuries that could have happened to you; either on the job or in other circumstances. Either your employer is liable, or another involved party besides your employer is liable. The first is resolving your personal injury matter and getting you just compensation. I may have to go through an appeals process if you file a claim and it is possibly challenged or denied. The second kind of issue can involve a third-party claim.
The Law Offices of John M Alton Co, LPA wants to help you get compensation for your suffering. Your personal injury matter should not be ignored. Your pain and suffering should be compensated for having to deal with such a personal injury matter. If you are being affected detrimentally due to your personal injury issue, allow me to represent you now in Powell and the surrounding area.
I will work thoroughly and diligently in reviewing your legal issues and providing you with a path forward on your personal injury case that will work to your satisfaction. My objective is to provide for you a real sense of financial compensation for your pain and suffering. Such results take time and effort. With my extensive practice experience at The Law Offices of John M Alton Co, LPA; I will put in all of his effort to getting you appropriate compensation for your injury.
Give us a call today!
At The Law Offices of John M Alton Co, LPA, we hope that you will trust us even if you consider your personal injury case to be out of this world tough. When we work with our Powell clients we always listen to their feedback throughout the process and make sure we try to do the most to please them. Give us a call at (614) 221-6751 today and see why we have so many clients throughout Powell.
The Law Offices of John M Alton Co, LPA
1071 S. High Street
Columbus, OH 43206
(614) 221-6751