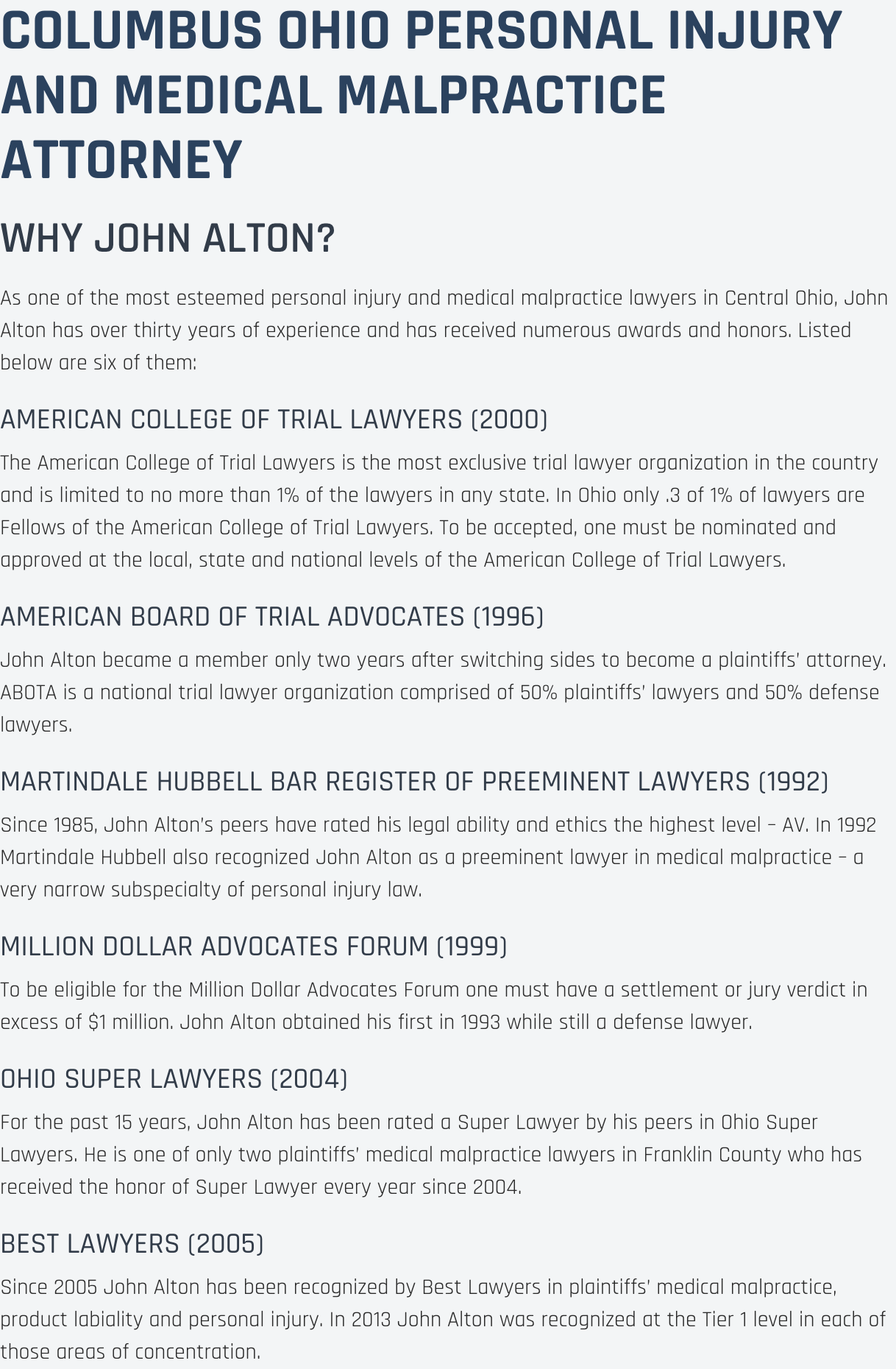 Personal Injury Lawyer Reynoldsburg OH
A serious personal injury case can have catastrophic consequences for you and your family. Besides physical pain and suffering, emotional pain can also be an issue. Economics plays a serious role too. You may not be able to work and may have mounting medical bills or other income issues. At The Law Offices of John M Alton Co, LPA, I will fight for your rights to get you the financial compensation you deserve for your pain and suffering. If you are in Reynoldsburg or the surrounding area; schedule an appointment to meet with me to discuss your personal injury case.
The Law Offices of John M Alton Co, LPA has nearly 25 years of legal experience helping people. I will bring that experience to bear on your personal injury case. My knowledge and expertise makes me qualified to advocate for you. I am an aggressive and effective attorney who will protect your rights. If you have had any serious issues in Reynoldsburg, or the surrounding areas due to a personal injury accident and need representation by a diligent lawyer, The Law Offices of John M Alton Co, LPA. is here to help you. I will not stop fighting for your rights.
The most important thing to remember after a personal injury matter occurs in your life is to know your rights. Your medical bills and other expenses may be adding up due to your personal injury matter. It all may seem impossible to deal with. The Law Offices of John M Alton Co, LPA is here to help. I want to make your life improve without the hassle of you dealing with your personal injury matter daily. I will take your case on as a top priority. I will make sure every effort is made to achieve the results that you would like.
As soon as you call The Law Offices of John M Alton Co, LPA we take the time to educate you about your personal injury rights. After 25 years of practice, we know it is a good idea to have legal representation in these cases. If you are looking for a way to judge personal injury attorneys, look to what their opposing counsel says about them. Reynoldsburg area defense attorneys respect The Law Offices of John M Alton Co, LPA and know they will face a potent and well crafted personal injury litigation. Call The Law Offices of John M Alton Co, LPA today using the information below to schedule a consultation:

The Law Offices of John M Alton Co, LPA
1071 S. High Street
Columbus, OH 43206
(614) 221-6751
Related Articles:
Amputation Attorney Ohio
,
Arbitrator In Marysville OH
,
Loss Of Limb In Mansfield OH
,
Paraplegia In Dayton OH
,
Personal Injury Lawyer Marietta OH
,
Quadriplegia Lawyer Cambridge OH
,
Quadriplegia Lawyer Lima OH
,
Cerebral Palsy Attorney Delaware OH
,
Maternal Birth Injury Attorney Troy OH
,
Medical Malpractice Attorney Athens OH
,