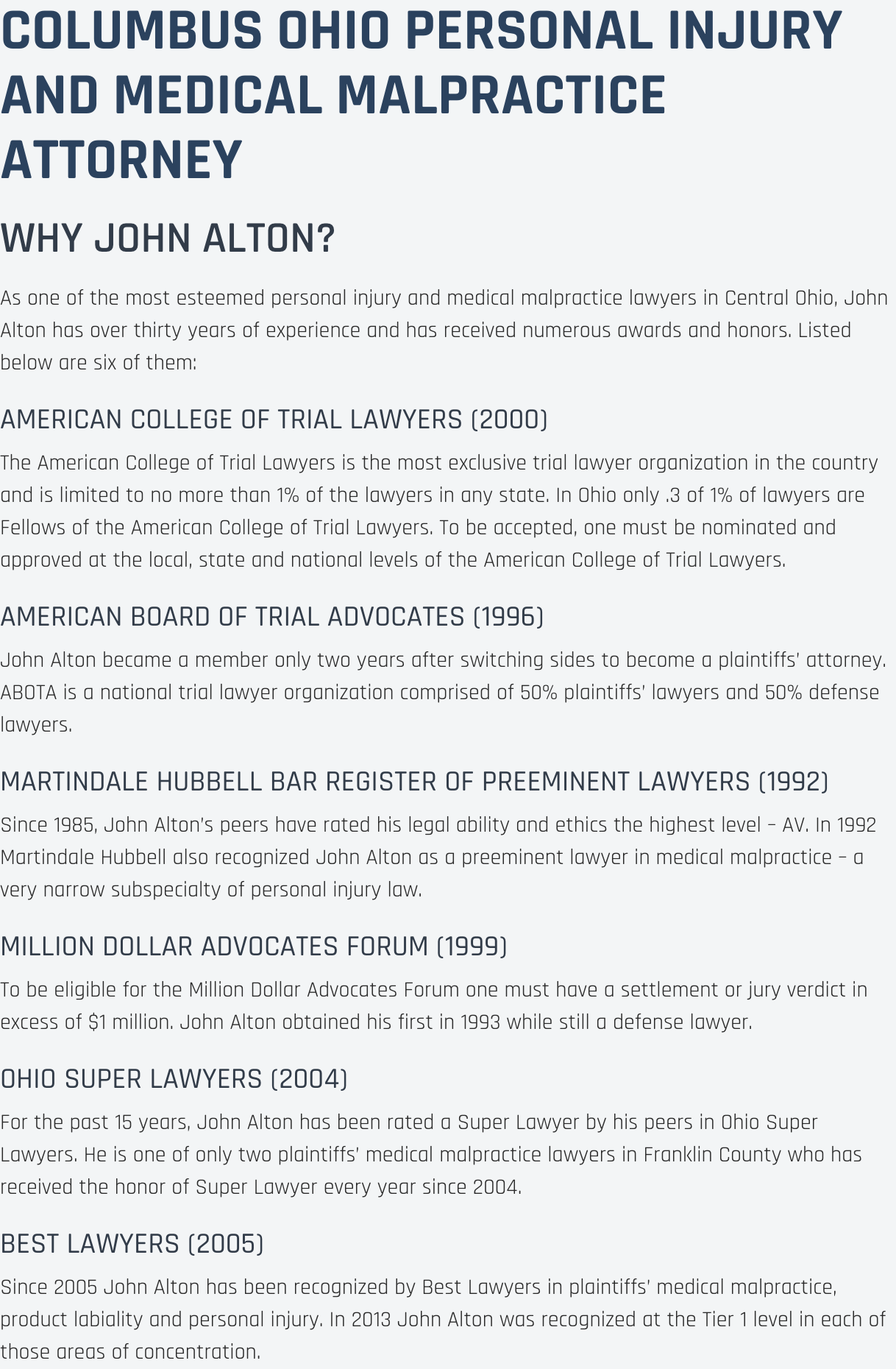 Personal Injury Lawyer Springfield OH
When you have lost a loved one or have been hurt due to a serious personal injury, you will need help dealing with your personal injury matter in an efficient and effective manner. Having to deal with a personal injury matter or other tragedy can be daunting. Choosing my help at The Law Offices of John M Alton Co, LPA can provide you with the legal solution you've been looking for. If you want the right lawyer to get the job done of securing you just compensation, look no further than my services for help in Springfield now.
There are a multitude of different issues involved in any personal injury claim. If you are in the Springfield area, avoid jeopardizing your claim by working with inexperienced attorneys. The Law Offices of John M Alton Co, LPA has 25 years of experience, and you can confide in me to meet your needs in the Springfield area.
At The Law Offices of John M Alton Co, LPA, I take great pride in helping our clients resolve their personal injury matter quickly. In our field of practice towards personal injury matters, I am proud to offer to my clients the highest standards in service and results toward resolving your personal injury matter. My experience in Springfield covers a wide range of personal injury cases involving carelessness and disregard for the safety of others. I will help protect your rights and get your compensation for your personal injury matter. With the right legal counsel, your personal injury matter will move forward with ease and less stress toward your daily routine.
You face many expenses after the incident that led to your personal injury matter from medical bills to lost wages and other opportunities missed. At The Law Offices of John M Alton Co, LPA, our job is to find compensation for these losses. Although compensation will never remove the trauma of the experience, we have found after 25 years practicing the law people feel empowerment through the legal system. The Law Offices of John M Alton Co, LPA council will put your interests first within your personal injury case. To schedule a free consultation, use the information below and call us today:

The Law Offices of John M Alton Co, LPA
1071 S. High Street
Columbus, OH 43206
(614) 221-6751

Related Articles:
Injury Attorney Columbus
,
Car Accident Lawyer Upper Arlington OH
,
Diving Accident Lawyer Upper Arlington OH
,
Loss Of Limb In Cincinnati OH
,
Mediator In Chillicothe OH
,
Mediation Lawyer Lima OH
,
Brain Damaged Baby Lawyer Troy OH
,
Personal Injury Lawyer Tiffin OH
,
Wrongful Death from Birth Injury Lawyer Tiffin OH
,
Medical Malpractice Attorney Mount Vernon OH
,