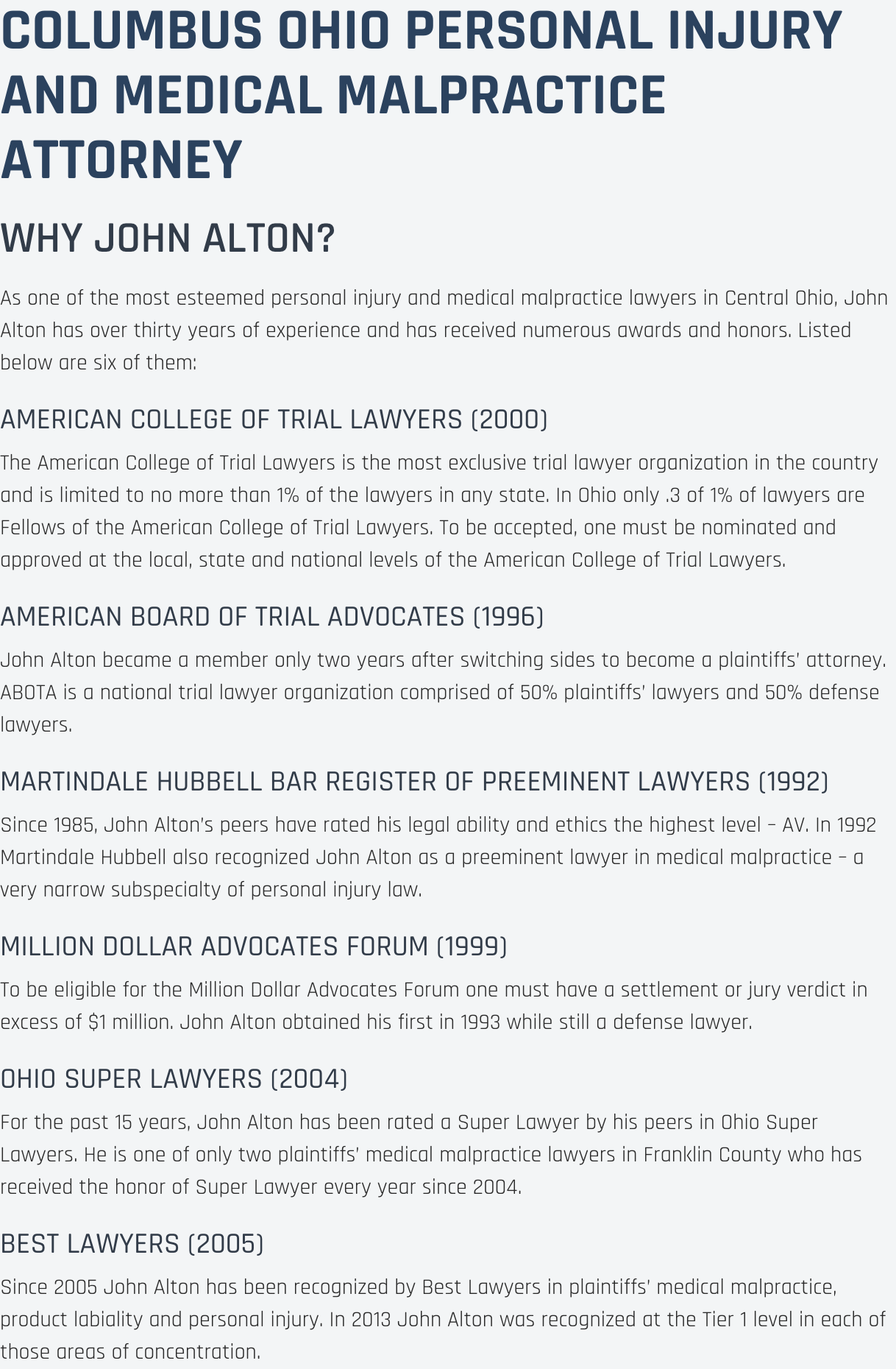 Personal Injury Lawyer Tiffin OH
At The Law Offices of John M Alton Co, LPA, I understand how to handle the many different types of benefit claims for clients in the Tiffin area. I will work hard to ensure that you receive fair compensation for your injuries and that Tiffin area insurance companies pay you what you deserve. I will evaluate your personal injury case. I will take the time to determine if you are likely to suffer in any other ways in the near future to protect your long term goals.
Your type of injury depends on the circumstances of your personal injury accident. Attaining compensation depends on proving to the court the amount of losses you have incurred. The Law Offices of John M Alton Co, LPA will fight to prove that your losses are of great value. I will fight for your right to obtain just financial compensation for your pain and suffering. At The Law Offices of John M Alton Co, LPA, I will make sure that every effort is made to push your personal injury case forward aggressively. Your personal injury case will be given top priority.
The Law Offices of John M Alton Co, LPA has extensive courtroom experience. When it comes to personal injury cases; I have a proven record of challenging even the most powerful opponents with successful outcomes. Every time I am in court on your Tiffin personal injury case, you can rest easy knowing that I am fighting for your interests. You will sleep better knowing that your personal injury case is being handled with the utmost attention to detail and skills to achieve the results you want.
The legal profession does not have the best reputation for friendliness, but the personal injury representation at The Law Offices of John M Alton Co, LPA makes an extra effort to relate to our clients. Sometimes we have to be strict in our representation, but after 25 years, of practicing the law we know the best attorney-client relationships is one built on trust and open communication. Contact The Law Offices of John M Alton Co, LPA today using the information below to schedule a free consultation:

The Law Offices of John M Alton Co, LPA
1071 S. High Street
Columbus, OH 43206
(614) 221-6751

Related Articles:
Malpractice Attorney Ohio
,
Arbitrator In Lancaster OH
,
Caesarean Section Errors In Circleville OH
,
Negligent Injury In Zanesville OH
,
Paraplegia In Findlay OH
,
Mediation Lawyer Akron OH
,
Birth Injury Lawyer Chillicothe OH
,
Medical Malpractice Lawyer Hillsboro OH
,
Spinal Cord Injury Lawyer Wilmington OH
,
Maternal Birth Injury Attorney Mount Gilead OH
,