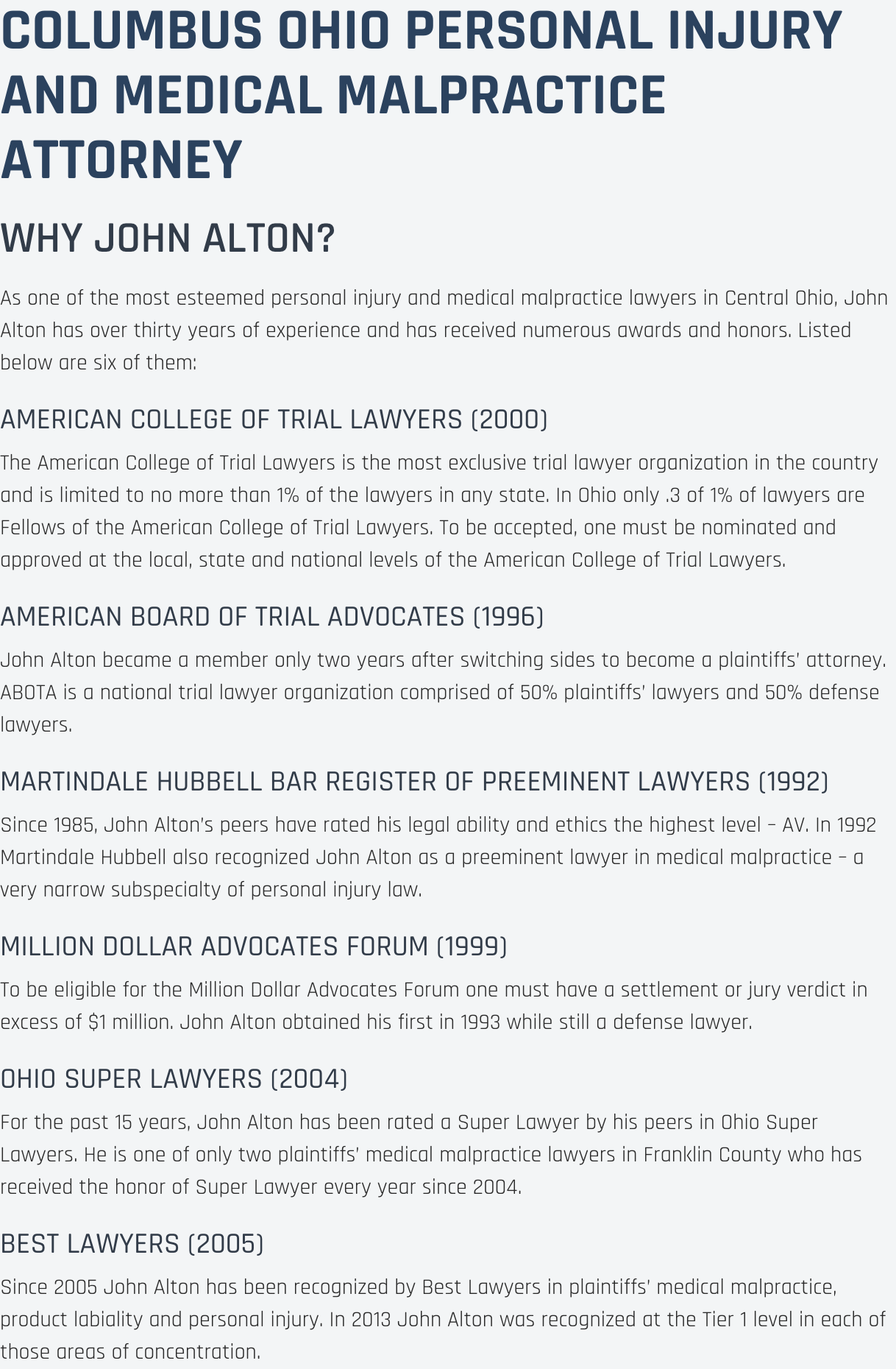 Personal Injury Lawyer Westerville OH
A serious personal injury case can have catastrophic consequences for you and your family. Besides physical pain and suffering, emotional pain can also be an issue. Economics plays a serious role too. You may not be able to work and may have mounting medical bills or other income issues. At The Law Offices of John M Alton Co, LPA, I will fight for your rights to get you the financial compensation you deserve for your pain and suffering. If you are in Westerville or the surrounding area; schedule an appointment to meet with me to discuss your personal injury case.
The last thing on your mind after an accident of is obtaining legal representation. The Law Offices of John M Alton Co, LPA can help you with your personal injury matter now. When you or a family member has been injured, it is important to seek medical attention, because injuries can lead to serious physical and emotional harm in your daily life. I can help reduce that stress in your life with our resolve to make your case our first priority. I will fight for you and find a just financial resolution towards your personal injury matter.
You may have a lot on your plate at this difficult time, but your recovery has to be your first priority. With my help at The Law Offices of John M Alton Co, LPA, I will serve as a litigation support toward your personal injury issue. You can focus on your rehabilitation; while I focus on obtaining compensation to which you are entitled. Allow my services in Westerville to be helpful to your personal injury situation now.
Give Us a Call Today!
You can give us a call toll free at (614) 221-6751 or visit our personal injury law office to schedule a meeting about your case. We are located in the Westerville area, and are happy to assist you now. The Law Offices of John M Alton Co, LPA is located at 1071 S. High Street.
The Law Offices of John M Alton Co, LPA
1071 S. High Street
Columbus, OH 43206
(614) 221-6751