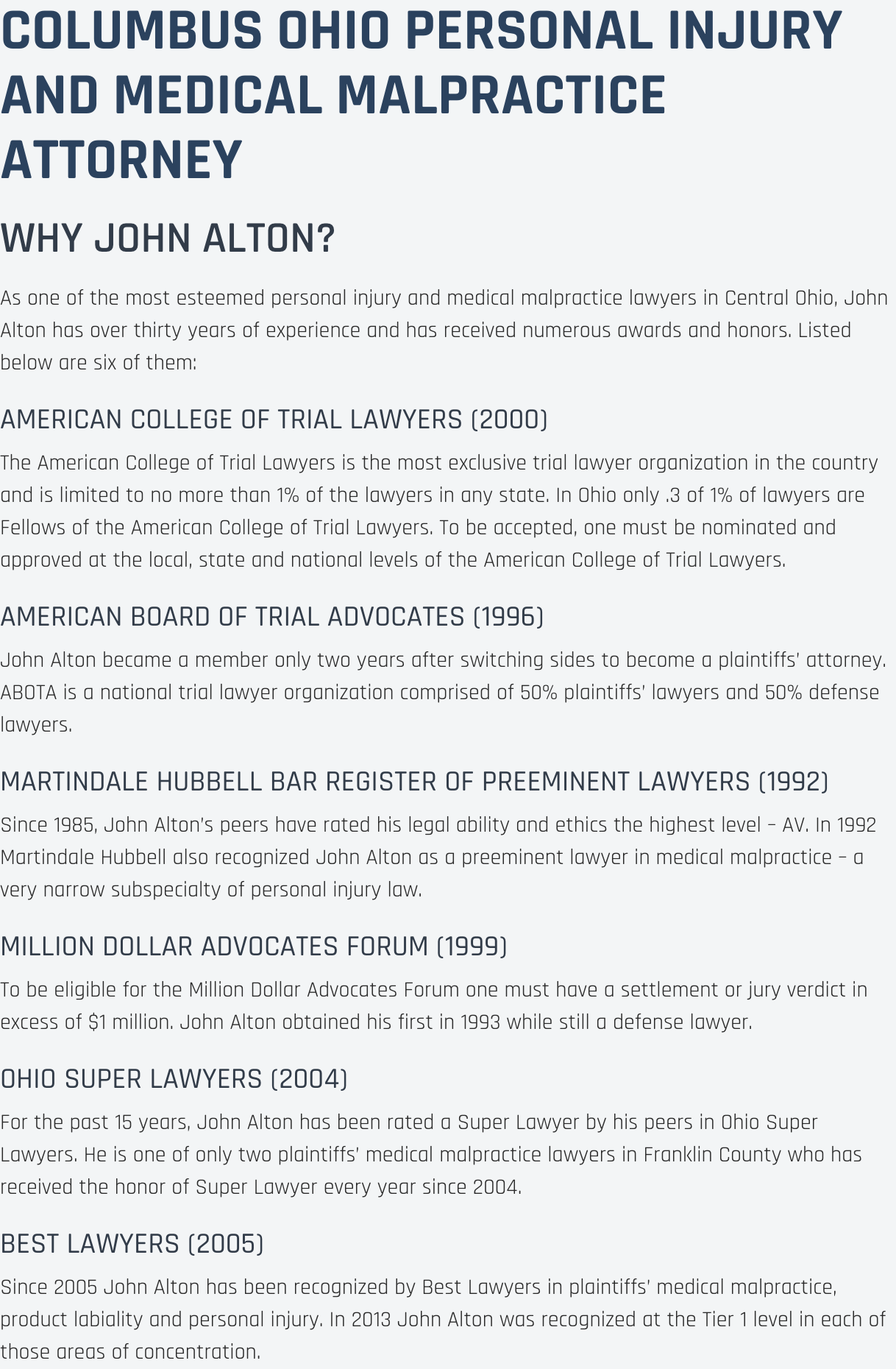 Personal Injury Lawyer Zanesville OH
In the unfortunate event that you are hurt in a personal injury accident, or someone close to you is injured or killed, it is important to call on a dependable, local lawyer and firm like The Law Offices of John M Alton Co, LPA for help. Medical expenses, wage losses and other financial issues are certain to follow after a personal injury accident happens to you. I am here to assist you in Zanesville and the surrounding areas today.
We have all had a personal injury matter happen to us at some possible point. Whether we are responsible or the other party at hand, is difficult to deal with. Your personal injury situation must be dealt with now. Allow The Law Offices of John M Alton Co, LPA the opportunity to help you clear the path in dealing with your personal injury matter to best help your situation. I will fight for your rights and help make your case is most beneficial to you to get you compensation for your suffering.
There are a multitude of different issues involved in any personal injury claim. If you are in the Zanesville area, avoid jeopardizing your claim by working with inexperienced attorneys. The Law Offices of John M Alton Co, LPA has 25 years of experience, and you can confide in me to meet your needs in the Zanesville area.
Call Our Offices Today!
Here at The Law Offices of John M Alton Co, LPA, our lawyers in Zanesville have experience handling various personal injury cases. We can provide you with the help you need. Call us at (614) 221-6751. Also, feel free to visit our offices at 1071 S. High Street.
The Law Offices of John M Alton Co, LPA
1071 S. High Street
Columbus, OH 43206
(614) 221-6751
Related Articles:
Personal Injury Attorney Columbus
,
Motorcycle Accident Lawyer Powell OH
,
Nursing Home Abuse Lawyer Bexley OH
,
Tractor Trailer Accident Lawyer Westerville OH
,
Arbitration Lawyer Marysville OH
,
Birth Injury Lawyer Bucyrus OH
,
Brain Damaged Baby Lawyer Millersburg OH
,
Brain Damaged Baby Lawyer Zanesville OH
,
Medical Malpractice Lawyer Urbana OH
,
Medical Malpractice Attorney Ironton OH
,