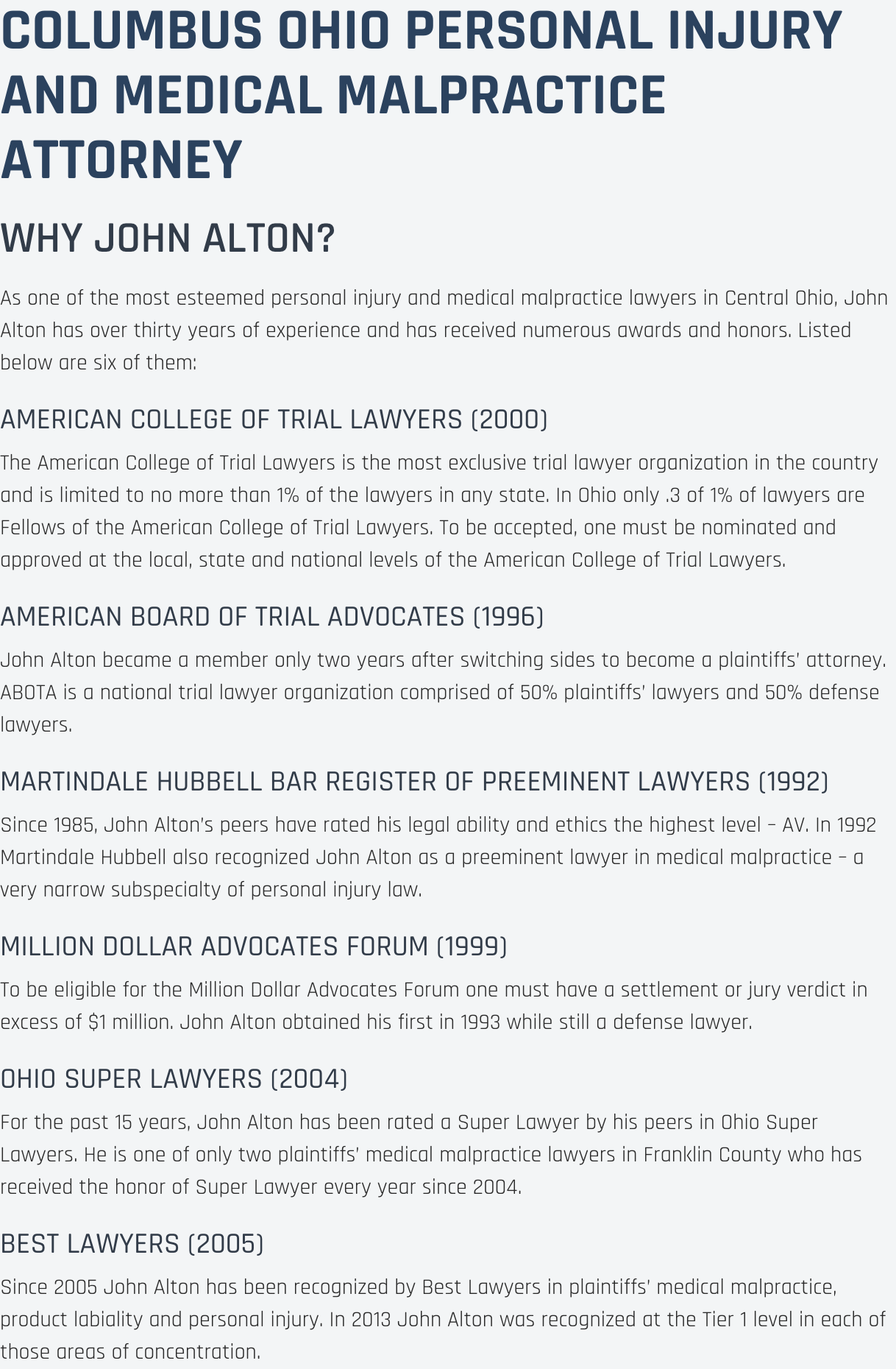 Quadriplegia In Columbus OH
Your quadriplegia issue will bring the burden of bills and expenses to your front door during a difficult time in your life. When you have to take time off work to recover, mounting debt from medical bills, home repairs and everyday expenses can begin to add up, causing even more stress. I will help you remove some of that stress out of your daily life and routine. Allow my services from The Law Offices of John M Alton Co, LPA the opportunity to assist you and improve your quadriplegia case.
Become a client of The Law Offices of John M Alton Co, LPA. The Law Offices of John M Alton Co, LPA brings nearly 25 years of legal experience to the table. I will treat your quadriplegia case with the utmost respect and confidentiality. I will explain the law and how it impacts your case, keep you informed, and move your personal injury matter forward through the legal system. I will work hard to achieve the right results toward your quadriplegia case. Your quadriplegia case will be of utmost priority to me.
I will work thoroughly and diligently in reviewing your legal issues and providing you with a path forward on your quadriplegia case that will work to your satisfaction. My objective is to provide for you a real sense of financial compensation for your pain and suffering. Such results take time and effort. With my extensive practice experience at The Law Offices of John M Alton Co, LPA; I will put in all of his effort to getting you appropriate compensation for your injury.
For many cases, the most important aspect of the quadriplegia legal representation is settlement negotiations. The Law Offices of John M Alton Co, LPA makes firm demands to the opposing counsel and only stops negotiating when you feel satisfied with a settlement. When you are looking for a quadriplegia firm within the Columbus area, you need someone who will devote adequate resources to your case. We are confident in our initial assessment of your legal rights and use our 25 years of experience to find the best cases. Contact The Law Offices of John M Alton Co, LPA using the information below for a free consultation:

The Law Offices of John M Alton Co, LPA
1071 S. High Street
Columbus, OH 43206
(614) 221-6751