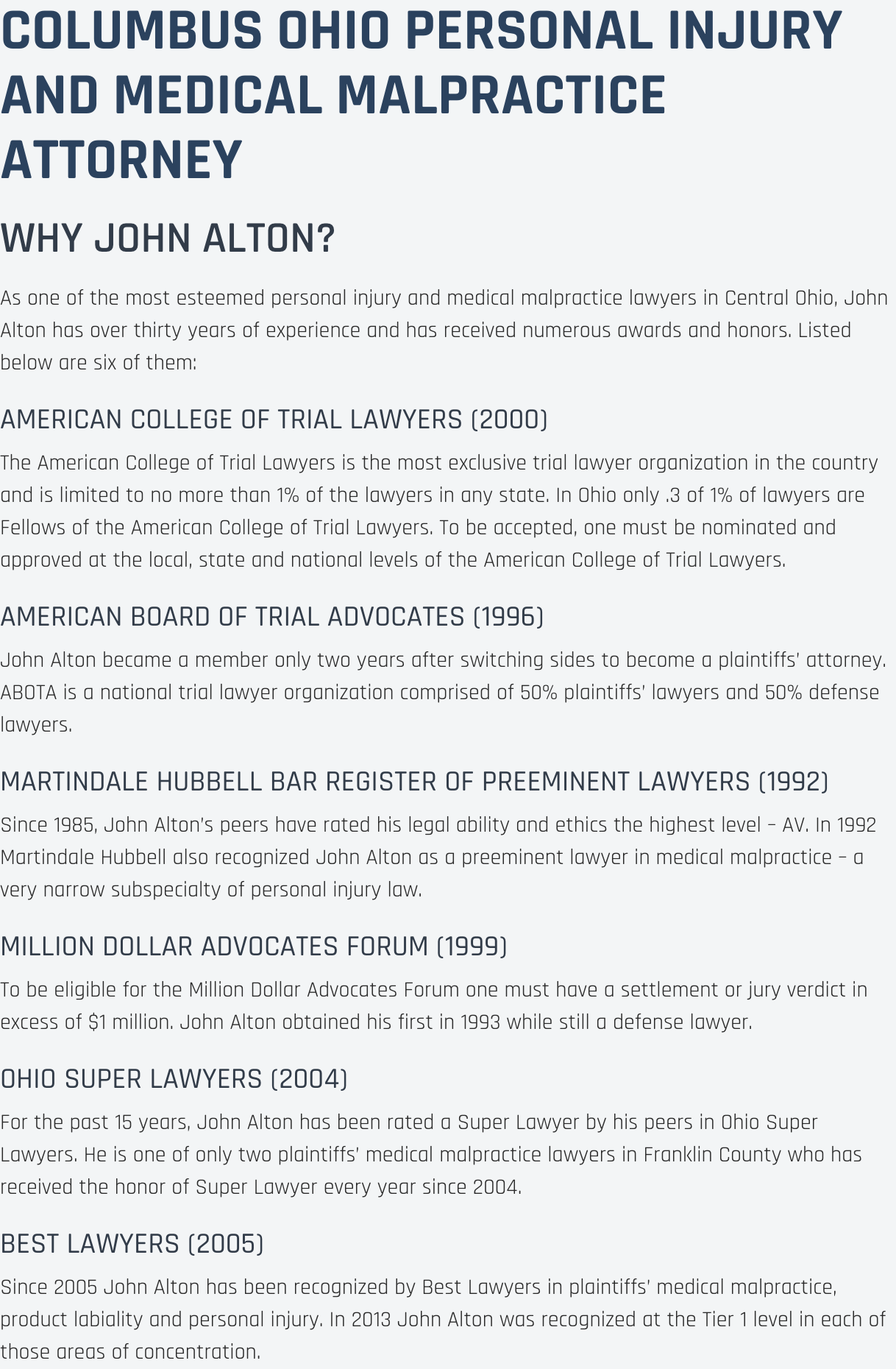 Quadriplegia Lawyer Pomeroy OH
The Law Offices of John M Alton Co, LPA serves clients in the Pomeroy area and is here to handle your quadriplegia case today. I want to make sure that your current medical and emotional problems due to your accident are less of an issue in your daily life. You deserve peace of mind and relaxation after dealing with any serious quadriplegia situation. You do not need the stress of additional bills piling up in your lap. I want to turn your problems into solutions in your daily life. Allow The Law Offices of John M Alton Co, LPA to show you how our services can benefit your personal injury matter today.
You may need the help of a doctor or therapist after getting hurt in a quadriplegia situation. You will heal physically, but physical and emotional scars can last a lifetime. You deserve just compensation for your suffering and need counsel from The Law Offices of John M Alton Co, LPA. Your quadriplegia matter is important to me; and I want to help guide you through the legal process to obtain justice. With my help and services, The Law Offices of John M Alton Co, LPA will help defend and protect your rights now.
My goal at The Law Offices of John M Alton Co, LPA is to take the stress out of your life and to help carry the burden of your personal injury case off your shoulders. If you are facing a quadriplegia matter in the Pomeroy area, count on me for legal guidance. With nearly 25 years of legal experience, I have the know-how and resources to make smooth work of your quadriplegia case, no matter how complicated it might seem. I can deal with your insurance company. I will go to the appropriate court serving the Pomeroy area to get the results that you want.
Call Us Today for Services in the Pomeroy Area!
Are you ready to talk to a lawyer in the Pomeroy area about your quadriplegia legal challenge? Call (614) 221-6751 today or visit our offices at 1071 S. High Street.
The Law Offices of John M Alton Co, LPA
1071 S. High Street
Columbus, OH 43206
(614) 221-6751