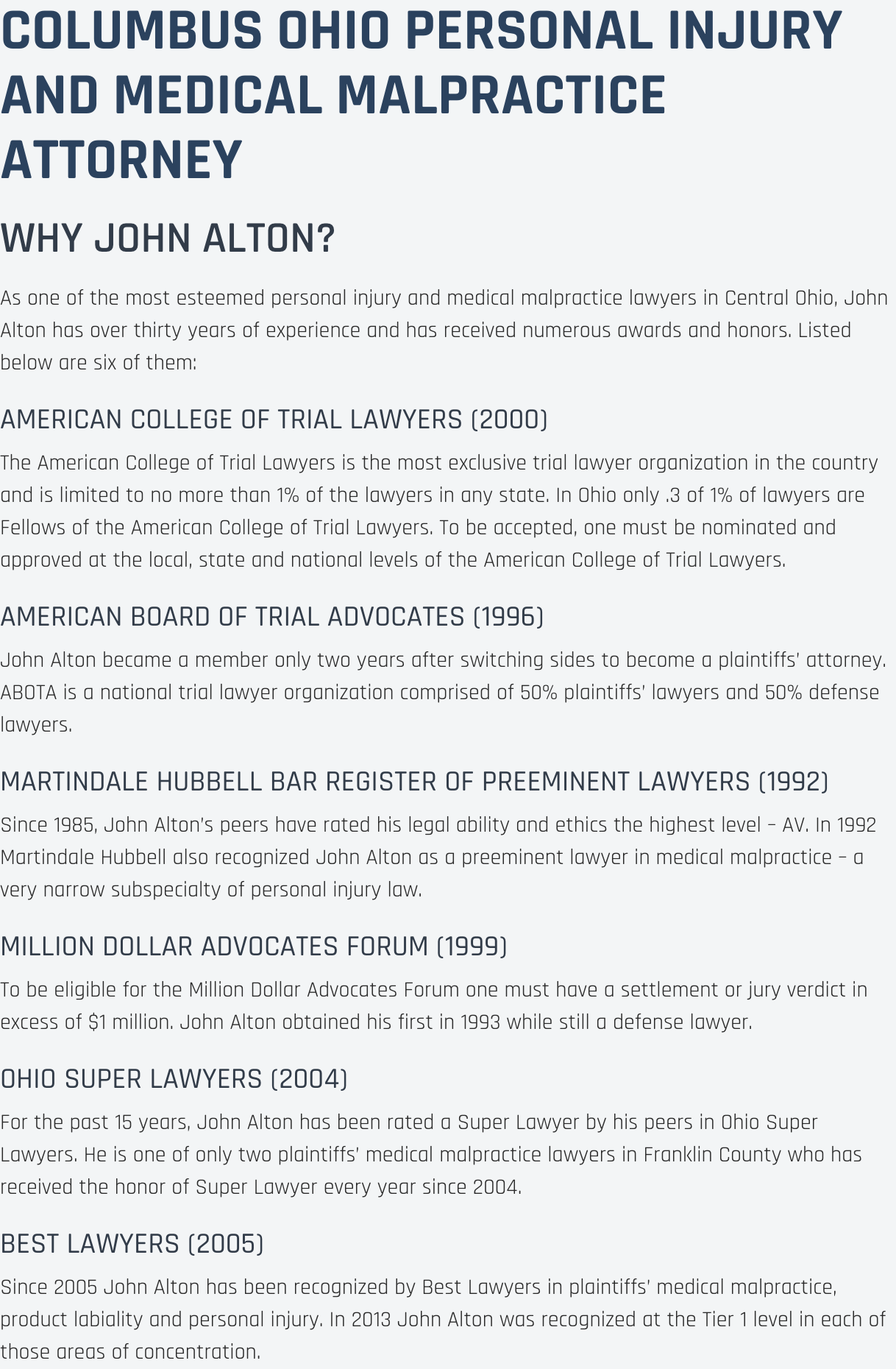 Serious Injury Attorney Columbus
A personal injury lawyer will be able to take care of the enormous task of investigating the circumstances of your serious injury matter, filing with the court, requesting applicable medical or law enforcement records, and communicating with the other side in an effort to settle the serious injury matter quickly. Your case is my priority. With the aid of an experienced personal injury attorney like me at The Law Offices of John M Alton Co, LPA, you can focus on your own recovery and relax knowing you have a fantastic lawyer working to your serious injury cases to your advantage.
Dealing with a serious injury matter and need professional legal counsel? I can help you in Columbus. My experience with serious injury cases has been to be as precise, detailed and accurate as possible to best help you. I know how to deal with your case. I walk my clients through the process and have a record of successfully recovering the maximum just compensation capable for my clients. Allow me the opportunity to assist your serious injury matter with the legal guidance that will show results.
The Law Offices of John M Alton Co, LPA will do everything possible to put our nearly 25 years of legal experience and knowledge to work to your advantage. My representation on your serious injury case will help guide you during one of the most challenging times of your life. I understand how difficult it can be for you to have been in an accident due to another person's negligence. The Law Offices of John M Alton Co, LPA is dedicated to helping you get through this challenging process with as little difficulty as possible.
Contact Us Today!
We're standing by waiting for your call to our Columbus firm. With years of experience, we're ready to take on your unique serious injury case in the Columbus area. Give us a call on our direct line at (614) 221-6751.
The Law Offices of John M Alton Co, LPA
1071 S. High Street
Columbus, OH 43206
(614) 221-6751