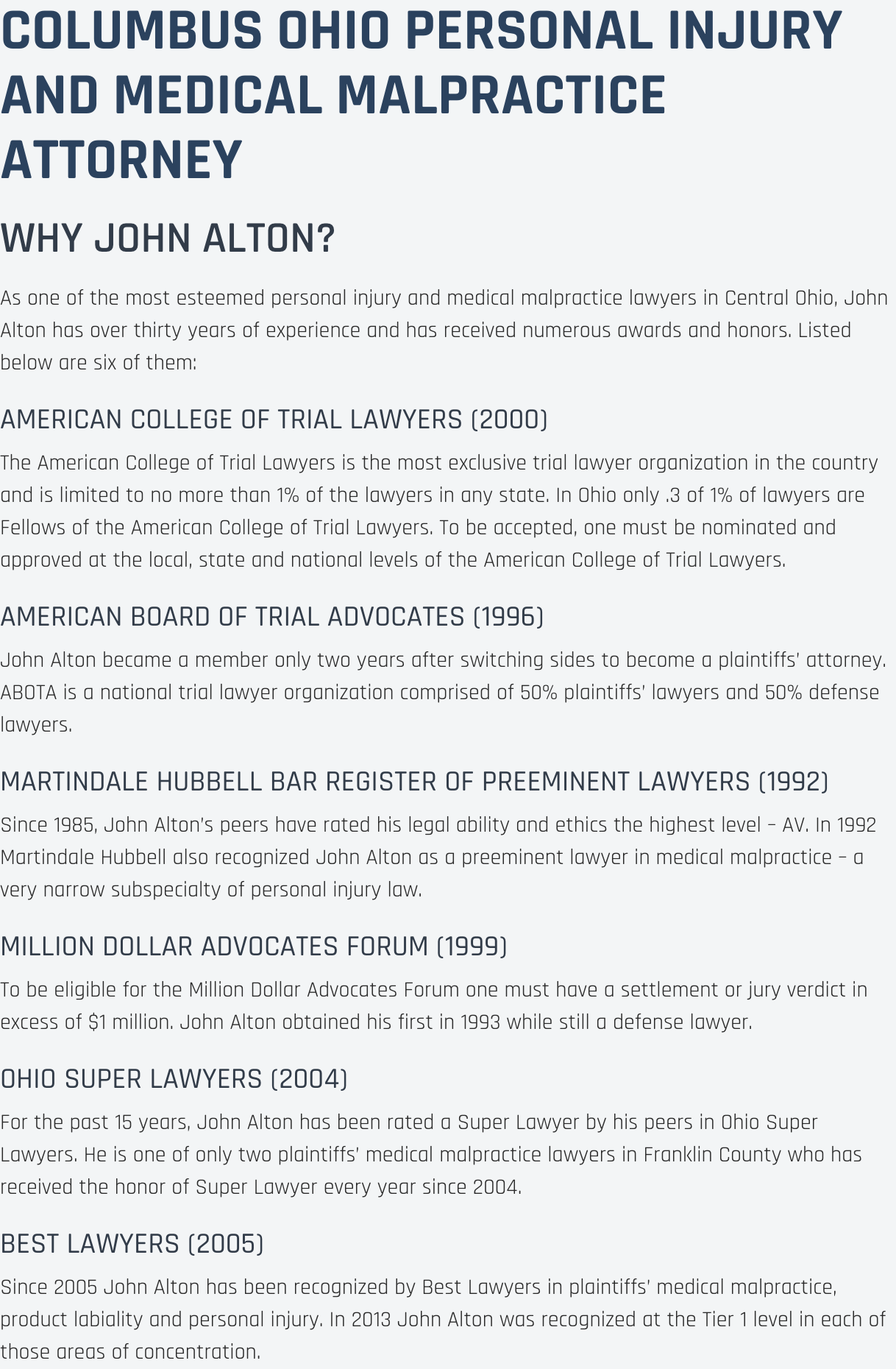 Serious Injury Attorney Columbus
You need an experienced personal injury lawyer like me at The Law Offices of John M Alton Co, LPA. to have as an ally if you or a loved one has been hurt due to a serious injury accident. Your friends and family are relieved to know that you're OK. But your bills are piling up. Your pain and suffering has made it difficult to do everyday things. Allow The Law Offices of John M Alton Co, LPA to help you now. You deserve justice, and we can help get that for you.
When you have lost a loved one or have been hurt due to a serious personal injury, you will need help dealing with your serious injury matter in an efficient and effective manner. Having to deal with a serious injury matter or other tragedy can be daunting. Choosing my help at The Law Offices of John M Alton Co, LPA can provide you with the legal solution you've been looking for. If you want the right lawyer to get the job done of securing you just compensation, look no further than my services for help in Columbus now.
When you need to recover medical expenses, lost wages, and other expenses necessary to protect your future security and care, you need to contact an advocate who is dedicated to protecting your rights. The Law Offices of John M Alton Co, LPA is here to protect your rights, your assets, and your emotional well-being during your recovery. Your serious injury matter needs to be resolved with results. You deserve to be treated fairly and receive compensation from the negligent party. I will help you achieve that goal with results.
Contact Us Today!
We're standing by waiting for your call to our Columbus firm. With years of experience, we're ready to take on your unique serious injury case in the Columbus area. Give us a call on our direct line at (614) 221-6751.
The Law Offices of John M Alton Co, LPA
1071 S. High Street
Columbus, OH 43206
(614) 221-6751
Related Articles:
Accident Attorney Dayton
,
Spinal Cord Injury Attorney Ohio
,
Truck Accident Lawyer Bexley OH
,
Birth Trauma In Columbus OH
,
Loss Of Limb In Findlay OH
,
Mediator In Marysville OH
,
Brain Damaged Baby Lawyer Bucyrus OH
,
Quadriplegia Lawyer Washington Court House OH
,
Cerebral Palsy Attorney Mount Gilead OH
,
Medical Malpractice Attorney Zanesville OH
,