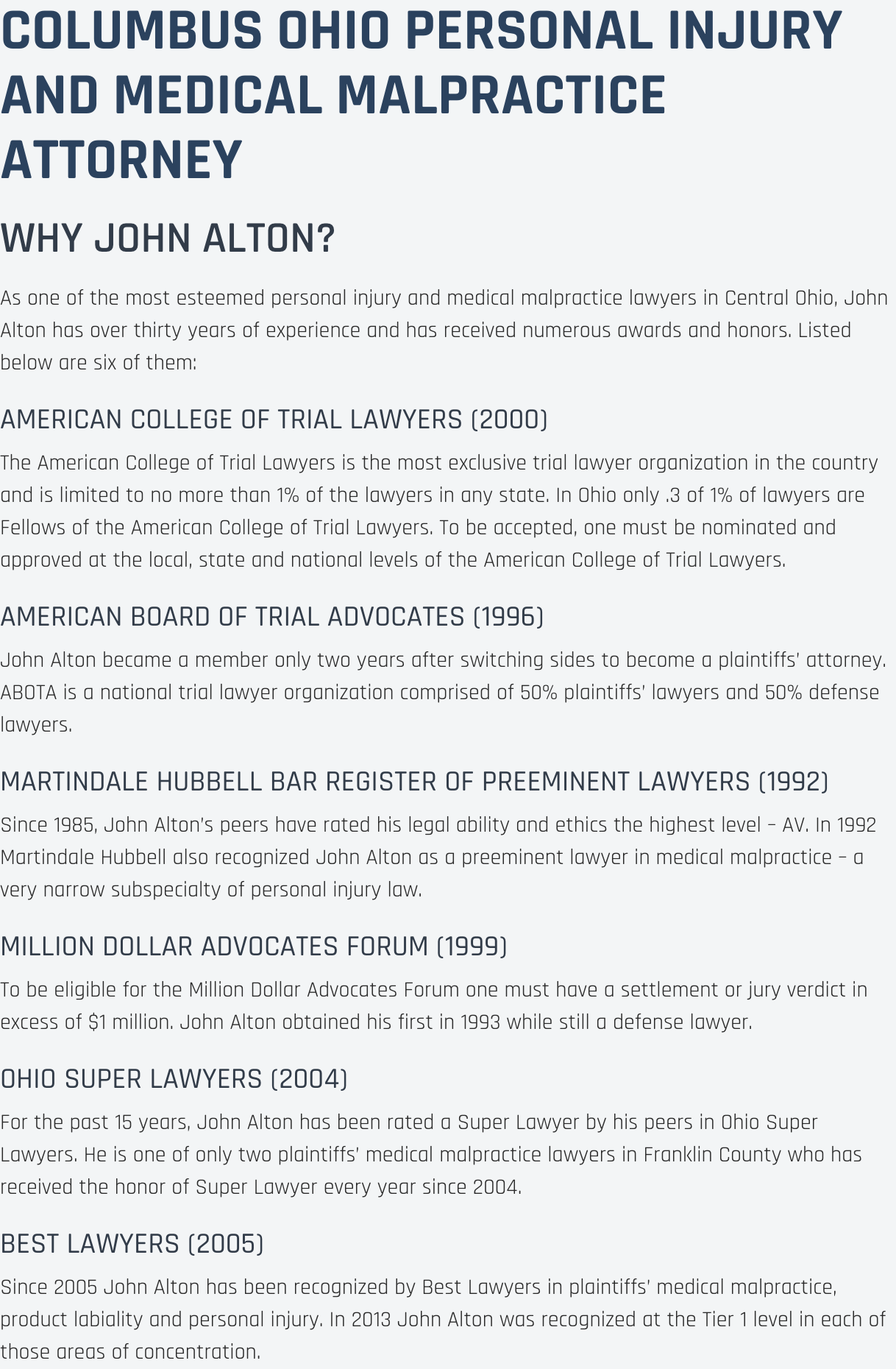 Wrongful Death Attorney Jackson OH
If someone close to you has suffered in a wrongful death matter due to the negligent, reckless, or intentional behavior of another party, it is crucial that you contact a skilled and compassionate wrongful death attorney as soon as possible to discuss the option of filing a wrongful death claim. I am here to help you with your wrongful death matter now. I will put my best foot forward to help you resolve your wrongful death matter and find you a just resolution that fits your wants and needs.
Here at The Law Offices of John M Alton Co, LPA, I am devoted to being on your side. For wrongful death cases that can get highly complicated in a short matter of time, allow me to craft an effective strategy in dealing with your case. My clients have seen substantial compensation from their wrongful death cases. For my Jackson area clients, I work hard to get them the results that they want. If you or a loved one has had to endure a personal injury accident, allow me to assist your wrongful death case to see what I can do.
With my nearly 25 years of legal experience working in the Jackson area, I know how to make successful arguments to give you a better chance to get the compensation that you deserve. I know the stall tactics and tricks that insurance companies in the Jackson area may use. I will cut through these matters to save time. I want to move your wrongful death case's chances forward; with a positive approach and final goal. I aim to achieve successful results.
Call The Law Offices of John M Alton Co, LPA now and see the results you want!
We understand the difficulty of dealing with the wrongful death legal process while having to deal with the effects of it as well. Call us today at (614) 221-6751 and we will help you get the right compensation to pay of your Jackson hospital bills.
The Law Offices of John M Alton Co, LPA
1071 S. High Street
Columbus, OH 43206
(614) 221-6751