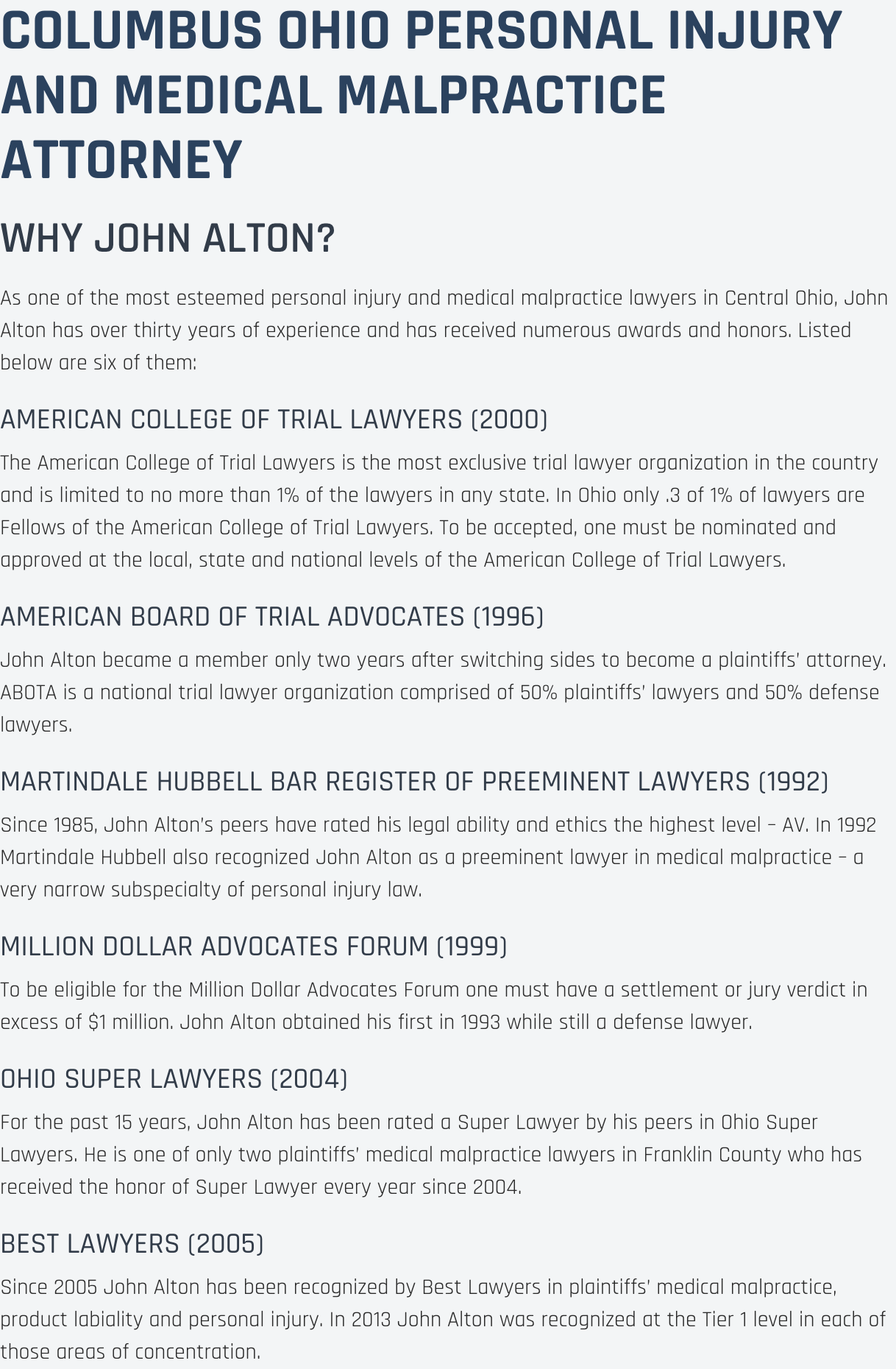 Wrongful Death Attorney Portsmouth OH
The Law Offices of John M Alton Co, LPA wants to improve your quality of life while you deal with your wrongful death issue. I want to provide you with our expertise and experience to make your wrongful death matter a thing of the past. Your quality of life and receiving compensation for your wrongful death issue is our priority. Allow me the opportunity in Portsmouth to show you what our services can provide towards finding a just resolution to your wrongful death matter now.
If you have had a wrongful death matter happen in your life and need help, The Law Offices of John M Alton Co, LPA is here for you. I can assure you that we will always act with the utmost respect for your feelings and with the highest ethical standards. I will work hard to find a fair solution that works for you to make your wrongful death a thing of the past emotionally and financially, and win your battle. We are very thorough with all wrongful death matters, and will treat your situation with the highest priority and concern.
A wrongful death accident can happen anywhere: at home, in the car, at a store or at work. When you have been hurt because of someone else's negligence or wrongful act, it is important you recover the compensation that you deserve for your injury. At The Law Offices of John M Alton Co, LPA, I can help you move your wrongful death case forward and work toward achieving the right results you are looking for.
Contact Us Today!
Ready to work with our lawyers in the Portsmouth area? Call The Law Offices of John M Alton Co, LPA today at (614) 221-6751, or visit our office at 1071 S. High Street. We can look over your unique wrongful death case and figure out the best way to move forward and get the results you need.
The Law Offices of John M Alton Co, LPA
1071 S. High Street
Columbus, OH 43206
(614) 221-6751
Related Articles:
Spinal Cord Injury Attorney Columbus
,
Car Accident Lawyer Powell OH
,
Loss Of Limb In Toledo OH
,
Spinal Cord Injury In Lancaster OH
,
Medical Malpractice Lawyer Cambridge OH
,
Personal Injury Lawyer Jackson OH
,
Personal Injury Lawyer Springfield OH
,
Quadriplegia Lawyer New Lexington OH
,
Maternal Birth Injury Attorney Marion OH
,
Medical Malpractice Attorney Lancaster OH
,