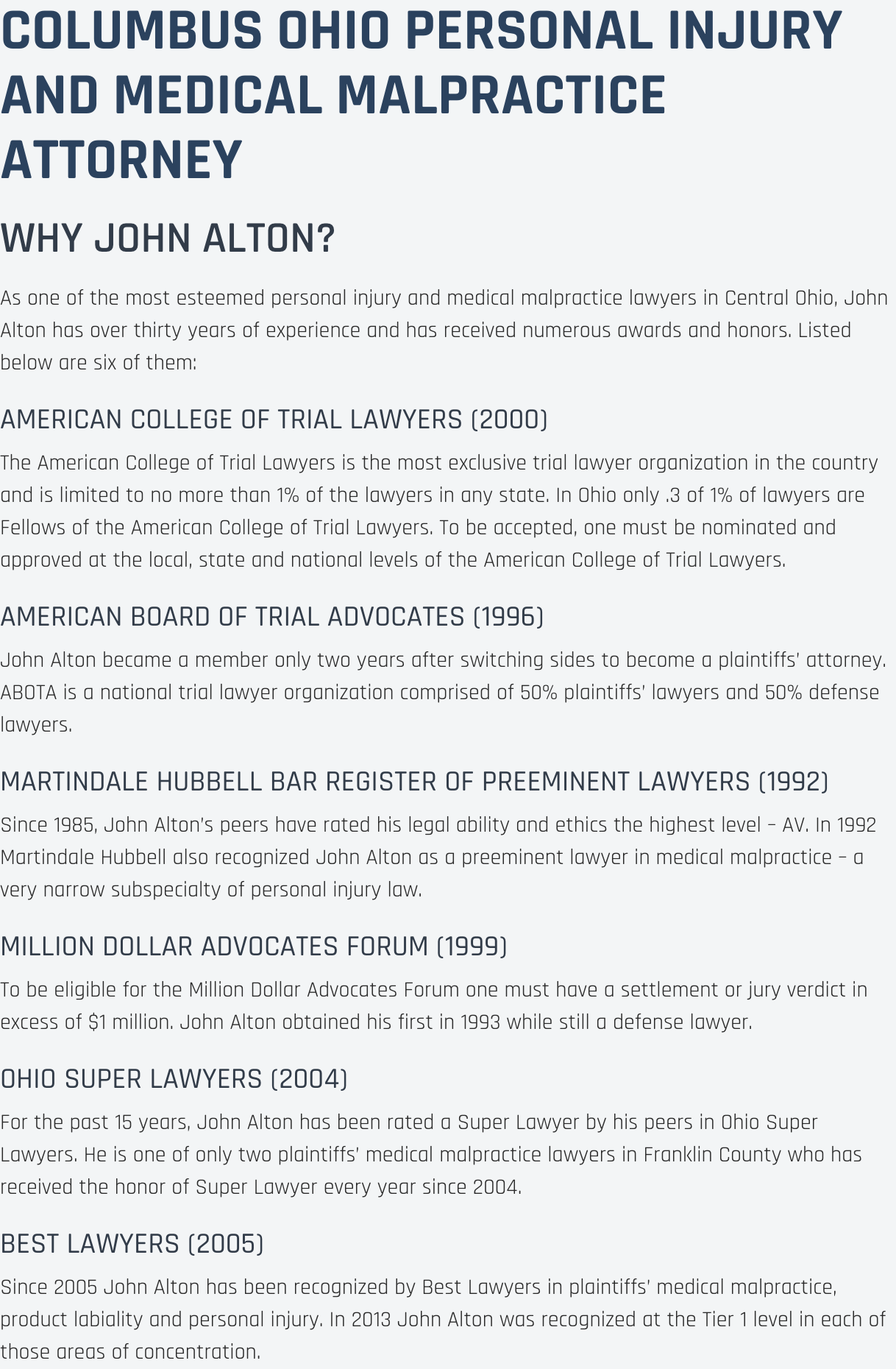 Wrongful Death Attorney Troy OH
The Law Offices of John M Alton Co, LPA understands that you may be suffering and in pain and dealing with economic loss or emotional distress due to your wrongful death matter. I am here to help improve your quality of life. With my legal guidance, I can help your wrongful death case move forward without all the daily stress. With my nearly 25 years of legal experience, I know how to get the ball rolling on dealing with personal injury matters. Allow me the opportunity to explain to you what my services can offer your wrongful death case today.
The words Personal Injury is a legal term referring to the physical injuries and economic losses resulting from poor and reckless behavior of another person. In Troy, a person who suffers a wrongful death can recover financial compensation for their short and long-term medical care, lost wages and earning potential loss. I want to help you resolve your wrongful death matter now. With my help at The Law Offices of John M Alton Co, LPA; I will help create a realistic plan to help make this happen for your current wrongful death situation.
Becoming a client at The Law Offices of John M Alton Co, LPA will be most beneficial to your wrongful death matter. I have 25 years of experience working on all types of Personal Injury cases. I will treat your situation with the utmost respect and confidentiality. I will explain the law and how it impacts your case, how to move your wrongful death matter forward through the legal system, and hopefully to see great results. My goal is to bring you a successful outcome to your wrongful death matter.
Contact Our Professional Lawyers Today!
When you seek legal expertise in the Troy area, work with the professionals at The Law Offices of John M Alton Co, LPA. We devote ourselves to your wrongful death case so you do not have to handle the headaches. Call us today at (614) 221-6751 or visit our offices at 1071 S. High Street.
The Law Offices of John M Alton Co, LPA | 1071 S. High Street | Columbus | OH | 43206 | (614) 221-6751