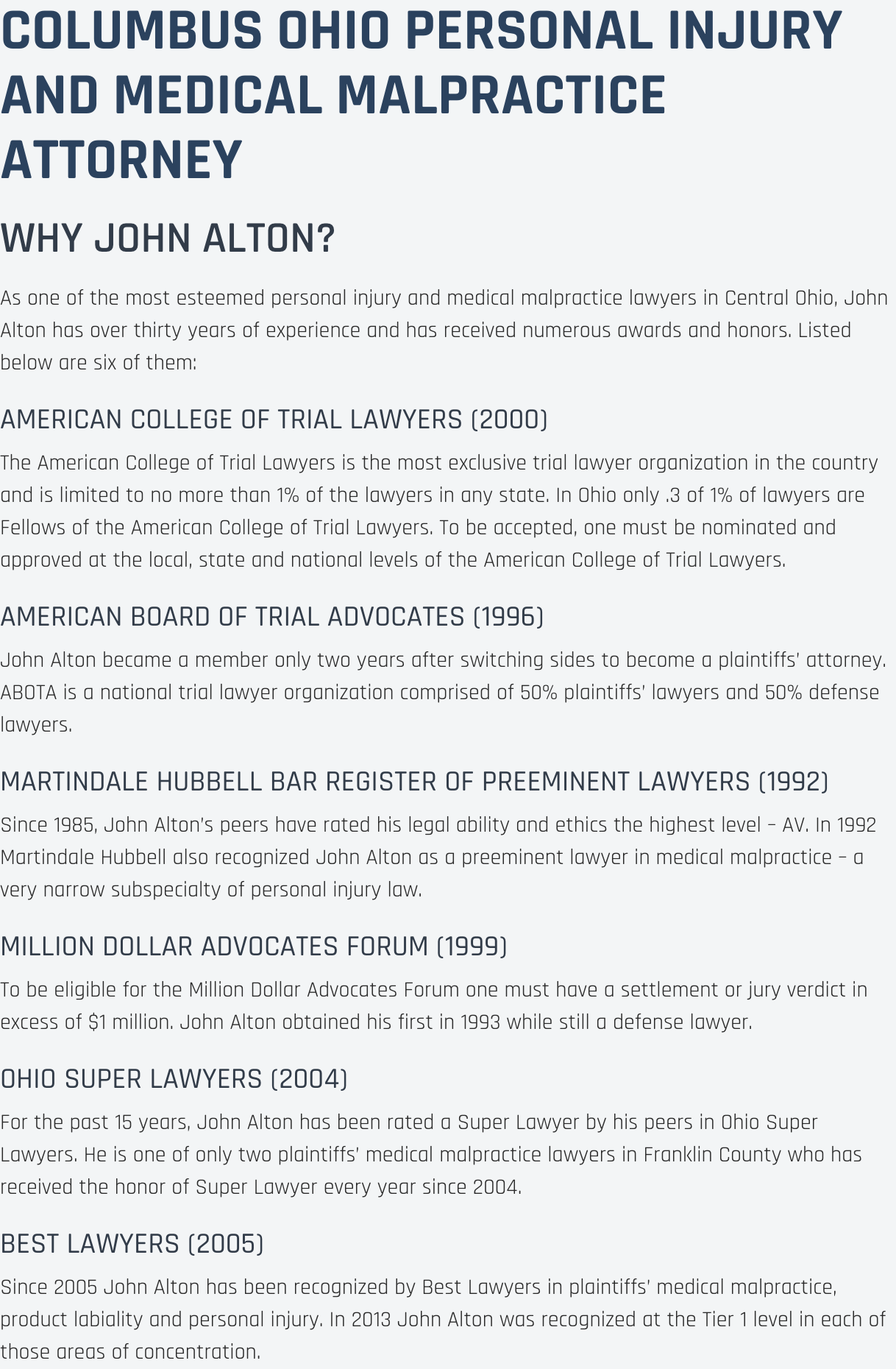 Wrongful Death Lawyer Reynoldsburg OH
The Law Offices of John M Alton Co, LPA will do everything possible to put our nearly 25 years of legal experience and knowledge to work to your advantage. My representation on your wrongful death case will help guide you during one of the most challenging times of your life. I understand how difficult it can be for you to have been in an accident due to another person's negligence. The Law Offices of John M Alton Co, LPA is dedicated to helping you get through this challenging process with as little difficulty as possible.
Here at The Law Offices of John M Alton Co, LPA, I am devoted to being on your side. For wrongful death cases that can get highly complicated in a short matter of time, allow me to craft an effective strategy in dealing with your case. My clients have seen substantial compensation from their wrongful death cases. For my Reynoldsburg area clients, I work hard to get them the results that they want. If you or a loved one has had to endure a personal injury accident, allow me to assist your wrongful death case to see what I can do.
Dealing with a wrongful death matter and need professional legal counsel? I can help you in Reynoldsburg. My experience with wrongful death cases has been to be as precise, detailed and accurate as possible to best help you. I know how to deal with your case. I walk my clients through the process and have a record of successfully recovering the maximum just compensation capable for my clients. Allow me the opportunity to assist your wrongful death matter with the legal guidance that will show results.
Work with our team!
We are ready in Reynoldsburg to help you through your wrongful death case. Give us the chance to build a defense that will get you the results you want in the Reynoldsburg area. Give us a call today at (614) 221-6751 to learn more about what we can do.
The Law Offices of John M Alton Co, LPA
1071 S. High Street
Columbus, OH 43206
(614) 221-6751
Related Articles:
Amputation In Columbus OH
,
Brachial Plexus Injury In Columbus OH
,
Negligent Injury In Cincinnati OH
,
Quadriplegia In Zanesville OH
,
Spinal Cord Injury In Findlay OH
,
Medical Malpractice Lawyer Urbana OH
,
Spinal Cord Injury Lawyer Mount Gilead OH
,
Maternal Birth Injury Attorney Marion OH
,
Maternal Birth Injury Attorney Springfield OH
,
Wrongful Death Attorney Findlay OH
,