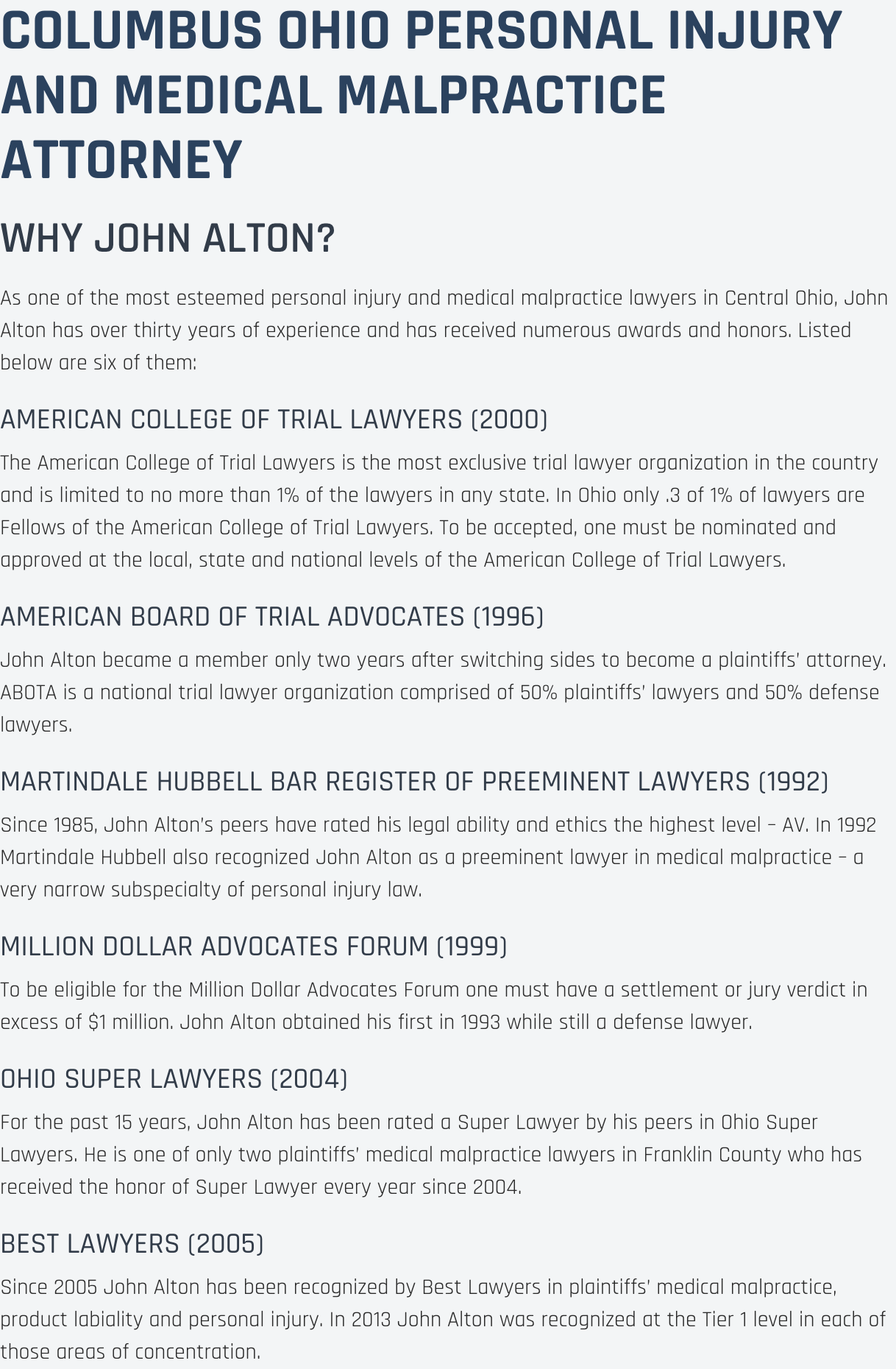 Wrongful Death Lawyer Worthington OH
The Law Offices of John M Alton Co, LPA understands that you may be suffering and in pain and dealing with economic loss or emotional distress due to your wrongful death matter. I am here to help improve your quality of life. With my legal guidance, I can help your wrongful death case move forward without all the daily stress. With my nearly 25 years of legal experience, I know how to get the ball rolling on dealing with personal injury matters. Allow me the opportunity to explain to you what my services can offer your wrongful death case today.
My goal is to handle your wrongful death case and to get you all the compensation that you deserve. I am here for you and will protect your rights. we will provide your wrongful death case with my full personal attention, insight and legal counsel. The Law Offices of John M Alton Co, LPA will take the appropriate actions necessary to move your wrongful death case forward. You will see that The Law Offices of John M Alton Co, LPA has your interests in mind. I will fight for you against the negligent party and in court to get you just compensation.
The Law Offices of John M Alton Co, LPA wants to help you get compensation for your suffering. Your wrongful death matter should not be ignored. Your pain and suffering should be compensated for having to deal with such a wrongful death matter. If you are being affected detrimentally due to your wrongful death issue, allow me to represent you now in Worthington and the surrounding area.
Work with our team!
We are ready in Worthington to help you through your wrongful death case. Give us the chance to build a defense that will get you the results you want in the Worthington area. Give us a call today at (614) 221-6751 to learn more about what we can do.
The Law Offices of John M Alton Co, LPA
1071 S. High Street
Columbus, OH 43206
(614) 221-6751
Related Articles:
Car Accident Lawyer Reynoldsburg OH
,
Diving Accident Lawyer Westerville OH
,
Nursing Home Abuse Lawyer Pickerington OH
,
Cerebral Palsy In Lancaster OH
,
Negligent Injury In Zanesville OH
,
Mediation Lawyer Cincinnati OH
,
Brain Damaged Baby Lawyer Waverly OH
,
Wrongful Death from Birth Injury Lawyer Xenia OH
,
Medical Malpractice Attorney Ironton OH
,
Medical Malpractice Attorney Springfield OH
,