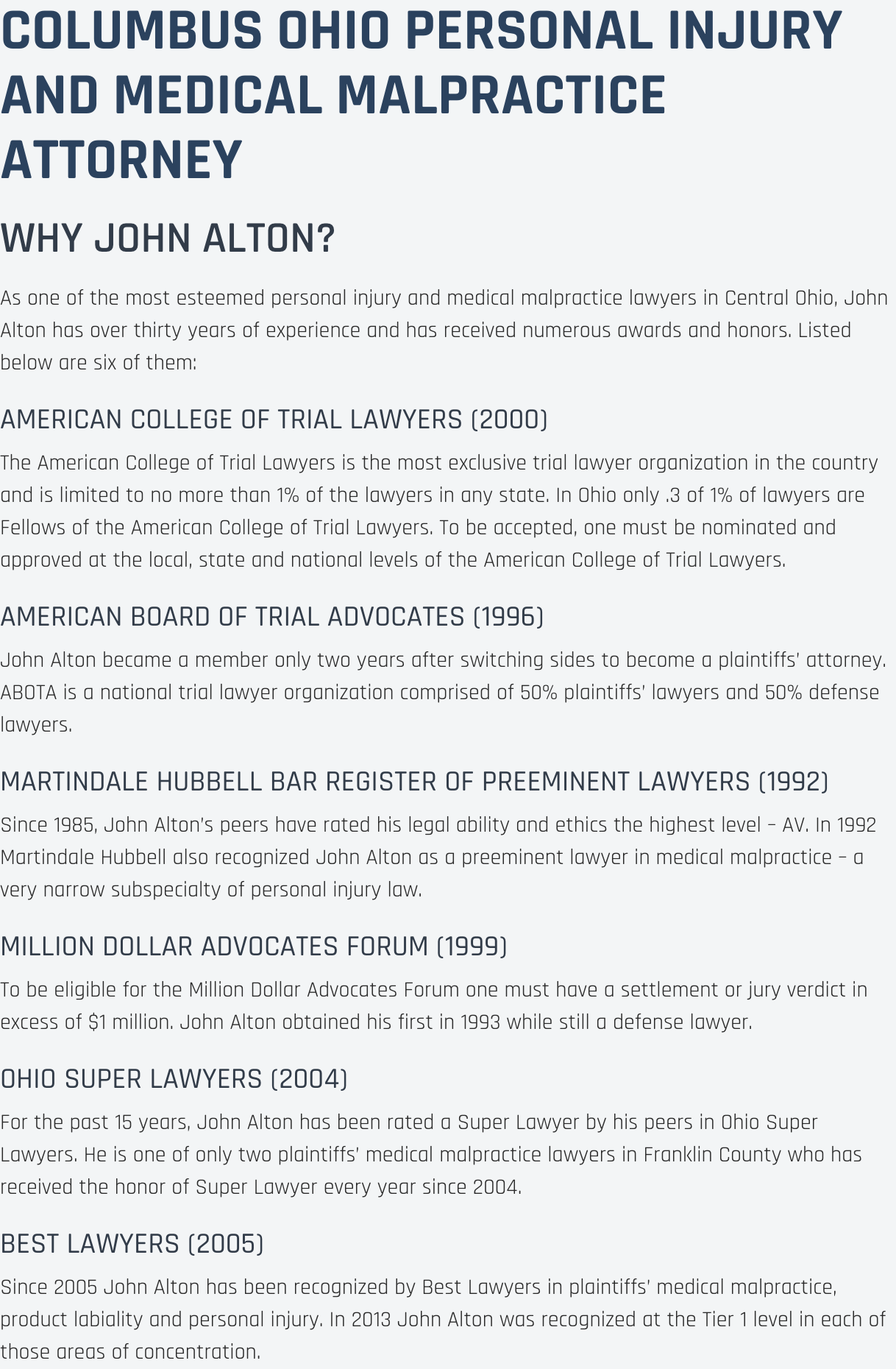 Wrongful Death Lawyer Worthington OH
Your type of injury depends on the circumstances of your wrongful death accident. Attaining compensation depends on proving to the court the amount of losses you have incurred. The Law Offices of John M Alton Co, LPA will fight to prove that your losses are of great value. I will fight for your right to obtain just financial compensation for your pain and suffering. At The Law Offices of John M Alton Co, LPA, I will make sure that every effort is made to push your wrongful death case forward aggressively. Your wrongful death case will be given top priority.
The Law Offices of John M Alton Co, LPA wants to help you get compensation for your suffering. Your wrongful death matter should not be ignored. Your pain and suffering should be compensated for having to deal with such a wrongful death matter. If you are being affected detrimentally due to your wrongful death issue, allow me to represent you now in Worthington and the surrounding area.
Becoming a client at The Law Offices of John M Alton Co, LPA will be most beneficial to your wrongful death matter. I have 25 years of experience working on all types of Personal Injury cases. I will treat your situation with the utmost respect and confidentiality. I will explain the law and how it impacts your case, how to move your wrongful death matter forward through the legal system, and hopefully to see great results. My goal is to bring you a successful outcome to your wrongful death matter.
Work with our team!
We are ready in Worthington to help you through your wrongful death case. Give us the chance to build a defense that will get you the results you want in the Worthington area. Give us a call today at (614) 221-6751 to learn more about what we can do.
The Law Offices of John M Alton Co, LPA
1071 S. High Street
Columbus, OH 43206
(614) 221-6751
Related Articles:
Nursing Home Negligence Attorney Ohio
,
Construction Accident Lawyer Gahanna OH
,
Personal Injury Lawyer Westerville OH
,
Caesarean Section Errors In Canton OH
,
Loss Of Limb In Zanesville OH
,
Negligent Injury In Cambridge OH
,
Spinal Cord Injury In Circleville OH
,
Brain Damaged Baby Lawyer Bucyrus OH
,
Quadriplegia Lawyer Kenton OH
,
Cerebral Palsy Attorney McConnelsville OH
,